N Scale Model Railroad Track Plans, Second Edition
Illustrated by Phil Kirchmeier
Part #KAL-12196
DISCONTINUED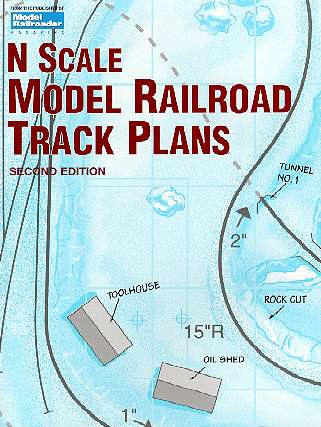 MORE FUN WITH YOUR N SCALE RAILROAD
Tired of running your N scale trains round and round that circle of track? N Scale Model Railroad Track Plans shows you how to add enjoyment by creating a more realistic layout. Whether you want to build a permanent layout or a portable module, the plans in this book include overall dimensions, track requirements, and an explanation of the operating concept to help you select a model railroad that suits your interests.
If you've ever had big dreams of building a layout in a small scale, N Scale Model Railroad Track Plans will help you make your dreams come true.
Contents
Considering an N Scale Model Railroad?
Sectional Track Plans
Modular Track Plans
Tabletop Track Plans
Point-to-Point Track Plans
Walk-In and Walkaround Track Plans
8-1/4" x 10-3/4", 64 pages, 75 Illustrations, Soft Cover
---
Email to sales@nscalesupply.com
Back to Catalog Page
© Copyright 1999 by Solution Development, Inc.