Kalmbach Publishing Co. Books
Track Planning For Realistic Operation
Third Edition, by John Armstrong
Part #KAL-12148
N Scale Supply Price: $16.00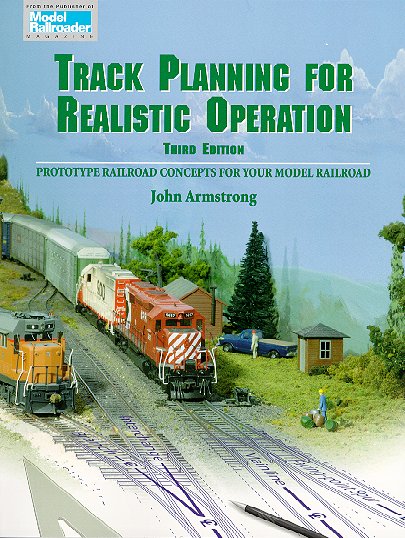 Model Railroad Design That Works
Whether you're planning your first permanent layout or you've already started building your latest model railroad empire, here's a book that's as essential as a pencil, saber saw, and electric drill. Inside this indispensable manual you'll find useful information about how real railroads operateand insightful advice on how to design a realistic model railroad in any scale. You'll discover
How track planning will let you operate your model railroad in the most realistic way
How you can design realistic mainlines, spurs, yards, terminals, and junctions
How you can make practical use of curvature, grades, turnout standards, and clearances
How the real railroads load and unload freight - and assemble trains and keep them rolling
Handy tables, charts, and illustrations and step-by-step instructions make it easier than ever to apply the principles of real railroading to even the simplest pike. Plus, this new third edition includes up-to-date information on contemporary railroading.

With Track Planning for Realistic Operation you can finally create the model railroad operation you've been dreaming of.
Contents
Introduction to the third edition
Section I: Prototype railroad operation
1
Loading and unloading products and passengers
2
Assembling cars into trains
3
Moving trains over the railroad
4
Specialized trackage and facilities
5
Contemporary railroading
Case study: Rationalization and the birth of a regional
Storage yards - on purpose?
Passengers on two levels
Concrete ties? - or steel
Section II: Designing a practical model railroad track plan
6
Operating reliability through standards
7
Layout locations and shapes
How big is too big?
8
Schematics for satisfying operation
9
Developing the main line
10
Filling in the details
Appendix A: The case history of an HO track plan
Appendix B: Examples of operation-oriented pikes
Glossary
Index
8-1/4" x 10-3/4", 144 pages, 45 Black & White Photos, 120 Illustrations, Soft Cover
---
Email to sales@nscalesupply.com
Back to Catalog Page
© Copyright 1998 by Solution Development, Inc.