Addams Ave. Part Two Kit
Part #DWD-DD2001
$35.96
New: May 2006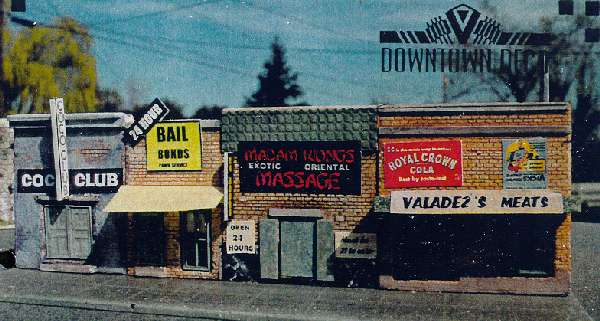 Assembled Model Shown - Sidewalk not included
This kit features finely detailed Hydrocal castings, Grandt Line doors & windows, full color signs & awnings, Evergreen styrene & complete finishing instructions. 3" x 5" footprint.
Construction Method: Cast Hydrocal plaster walls, plastic door & windows and full color paper signs

Construction Time: Modelers of average skill should be able to finish this kit in 2 or 3 evenings. Easy to understand step by step instructions are provided to walk you through each step of construction, from gluing the kit together to final painting and aging.

Tools Required: Hobby knife, sanding block, 5 minute epoxy, super glue, paint brushes.

Finishing: Flat white spray paint (to seal the castings) and water based artists acrylics.