Con-Quest - 48' Smooth Side Container
Part #DEI-C820 N Scale Supply Price: SOLD OUT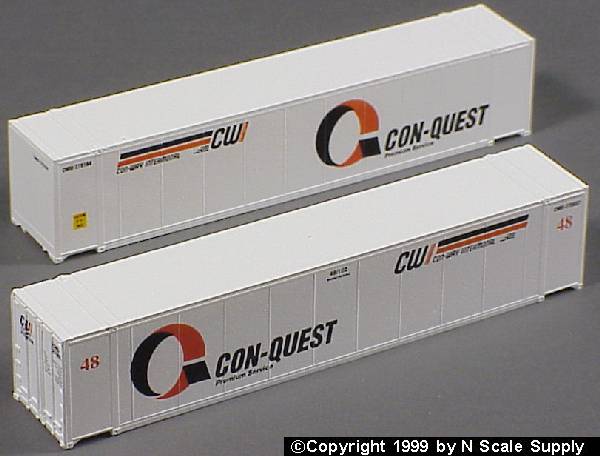 Con-Way Transportation Services is one of the largest trucking companies in the US. Their sets of double and triple 28' trailers are a common sight on America's highways. Con-Way established Con-Quest to market the company's Premium Services. These containers appeared in two slightly different schemes. One has the orange "48's" near the ends while the other has the black and yellow height warnings. Both schemes are asymetrical: The big Q logo is toward the doors on both sides, while the CWI logo also flips from one side to the other.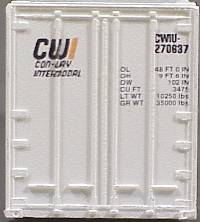 End View
The model has a removable bottom, so weights can be installed as required. When used in the bottom well of deLuxe's TwinStack, MDC's Husky Stack or Con-Cor's All Purpose Husky Stack a weight is suggested, such as the deLuxe innovations Container Weights. When used in the lower well with the Walthers Thrall car or the upper position in any of the above, no weight is required.
To attach one container to another, use deLuxe innovations Container Glue (Part #DEI-L8-1). This glue will allow you to re-stack the train at any time, and will not damage the paint.
Back to deLuxe innovations 48' Smooth Side Container Page

Back to deLuxe innovations Page
---
To contact N Scale Supply email to:
sales@nscalesupply.com
Back to Catalog Page
© Copyright 1999, 2000 by Solution Development, Inc.