J.B. Hunt (3rd Release) - 48' Smooth Side Container
Part #DEI-C818B N Scale Supply Price: $
Nationwide carrier giant J.B. Hunt went into the container business primarily to gain competitive advantage in the ever changing world of domestic shipping. They own and operate a large fleet of 53' and 48' domestic containers, as well as trailers of nearly every description. The two 48 foot smoothsides represented were photographed in BNSF's Hobart yard carried in stack cars. J.B. Hunt has become one of the most successful and respected of domestic carriers.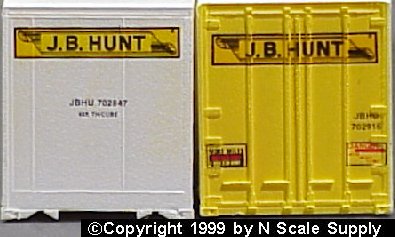 End View
The model has a removable bottom, so weights can be installed as required. When used in the bottom well of deLuxe's TwinStack, MDC's Husky Stack or Con-Cor's All Purpose Husky Stack a weight is suggested, such as the deLuxe innovations Container Weights. When used in the lower well with the Walthers Thrall car or the upper position in any of the above, no weight is required.
To attach one container to another, use deLuxe innovations Container Glue (Part #DEI-L8-1). This glue will allow you to re-stack the train at any time, and will not damage the paint.
Back to deLuxe innovations 48' Smooth Side Container Page

Back to deLuxe innovations Page
---
Email to sales@nscalesupply.com
Back to Catalog Page
© Copyright 1999 by Solution Development, Inc.