BN America (3rd Release, Insulated)
48' Smooth Side Container
Part #DEI-C808B N Scale Supply Pric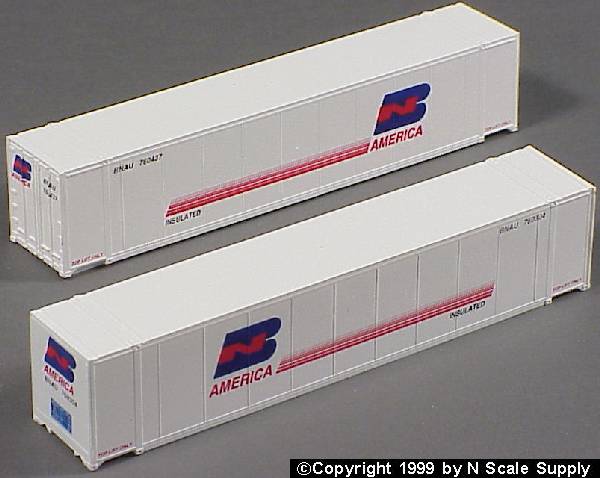 BN America was the Intermodal subsidiary of Burliington Northern Railroad. This pair of containers represents BN America's fleet of 48' insulated boxes. The insulated boxes guaranteed a stable environment for those Goldilocks shipments that can't get too hot or too cold but need to be just right. Because of the layers of insulation, these containers do have a slightly smaller cubic capacity than their dry box counterparts. BN was an early player in the domestic container business, investing heavily in these 48' boxes and the 48' container cars that carry them.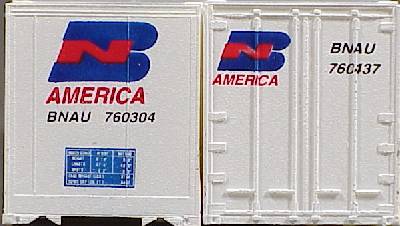 End View
The model has a removable bottom, so weights can be installed as required. When used in the bottom well of deLuxe's TwinStack, MDC's Husky Stack or Con-Cor's All Purpose Husky Stack a weight is suggested, such as the deLuxe innovations Container Weights. When used in the lower well with the Walthers Thrall car or the upper position in any of the above, no weight is required.
To attach one container to another, use deLuxe innovations Container Glue (Part #DEI-L8-1). This glue will allow you to re-stack the train at any time, and will not damage the paint.
Back to deLuxe innovations 48' Smooth Side Container Page

Back to deLuxe innovations Page
---
Email to sales@nscalesupply.com
Back to Catalog Page
© Copyright 1999, 2001 by Solution Development, Inc.