CSX Intermodal - 48' Smooth Side Container
Part #DEI-C805A N Scale Supply Pri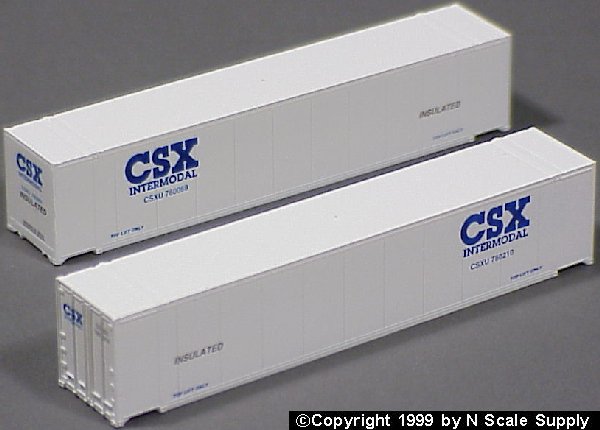 CSX is the big blue monster of the intermodal business. In addition to their sprawling rail network, CSX owns river barge lines and even Sealand Services! Their fleet of domestic containers and trailers is huge. Thousands toil in anonymity with only their CSXU or CSXZ reporting marks betraying their ownership. Thousands of others, like the two containers presented here, proudly fly the corporate flag. CSX was created by the merger of Chessie System and Seaboard System (providing the C and S, the X refers to the combination of the two).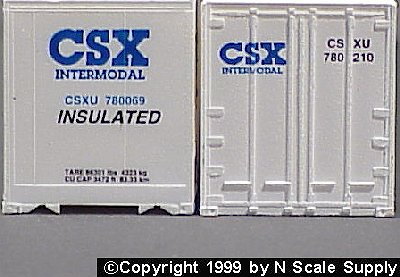 End View
The model has a removable bottom, so weights can be installed as required. When used in the bottom well of deLuxe's TwinStack, MDC's Husky Stack or Con-Cor's All Purpose Husky Stack a weight is suggested, such as the deLuxe innovations Container Weights. When used in the lower well with the Walthers Thrall car or the upper position in any of the above, no weight is required.
To attach one container to another, use deLuxe innovations Container Glue (Part #DEI-L8-1). This glue will allow you to re-stack the train at any time, and will not damage the paint.
Back to deLuxe innovations 48' Smooth Side Container Page

Back to deLuxe innovations Page
---
Email to sales@nscalesupply.com
Back to Catalog Page
© Copyright 1999 by Solution Development, Inc.