Interdom
48' Smooth Side Container, 2 Pack
Part #DEI-8230 N Scale Supply Price: $SOLD OUT

Interdom is a transportation and logistics firm which operates out of Chicago, Los Angeles, and Newton, Iowa. In addition to operating their own fleet of domestic containers, they also have a number of Twinstack container cars in at least two paint schemes. Logistics firms like Interdom allow medium and large size manufacturers and distributors to out-source their traffic management departments. they batch LTL freight, constantly survery the transport market for price and service and handle all of the paperwork.
This model is styled after the Monon smoothside container, featuring the 5 offset hinges,the angled front corner posts, and the sawtooth tongue port. They are primarily for dry goods shipment, but some are insulated for perishables. For the most part they stay in North America, but recent ship construction has allowed 48' overseas travel for a few routes. So far, only all steel containers are making this journey.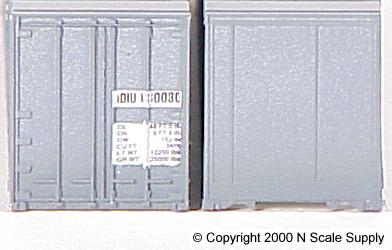 The model has a removable bottom, so weights can be installed as required. When used in the bottom well of deLuxe's TwinStack, MDC's Husky Stack or Con-Cor's All Purpose Husky Stack a weight is suggested, such as the deLuxe innovations Container Weights. When used in the lower well with the Walthers Thrall car or the upper position in any of the above, no weight is required.
To attach one container to another, use deLuxe innovations Container Glue (Part #DEI-L8-1). This glue will allow you to re-stack the train at any time, and will not damage the paint.
Back to N Scale Supply catalog page for : deLuxe innovations 48' Smooth Side Container

Back to deLuxe innovations Page
---
To contact N Scale Supply email to:
sales@nscalesupply.com
Back to Catalog Page
© Copyright 2000 by Solution Development, Inc.