| | | |
| --- | --- | --- |
| | Product Line: deLuxe innovations | |
Santa Fe w/Red Delineators - 48' Smooth Side Container
Part #DEI-8111 N Scale Supply Price:SOLD OUT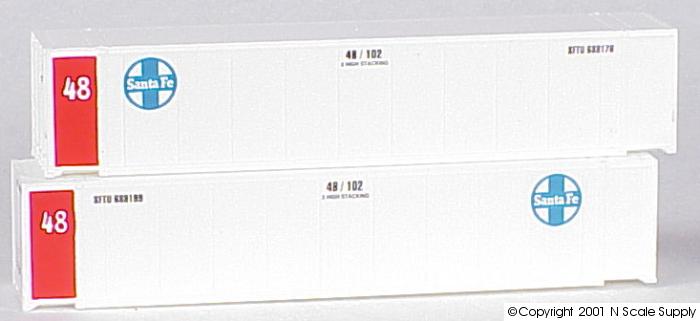 First released by deLuxe over five years ago, this Santa Fe container paint scheme is making a comeback with new road numbers. This represents the second most common of all Santa Fe container paint schemes. First appearing the mid-eighties, many of these containers are still in service. They have gradually been reassigned by BNSF (Santa Fe's successor) to the NACS container pool. The red band with the "48" (which, believe it or not, is an industry standard font) was a common practice in the early days of 48' containers. APL/APC and Sea Van among others used the same technique to warn crane operators of the "oversize" dimensions of these boxes. Keep in mind that when these containers were introduced, the vast majority of stack car wells could only accommodate 48' loads in the top position. As larger stack cars and 48' containers became more common, the red panel was dropped from newly constructed containers.
The model has a removable bottom, so weights can be installed as required. When used in the bottom well of deLuxe's TwinStack, MDC's Husky Stack or Con-Cor's All Purpose Husky Stack a weight is suggested, such as the deLuxe innovations Container Weights. When used in the lower well with the Walthers Thrall car or the upper position in any of the above, no weight is required.
To attach one container to another, use deLuxe innovations Container Glue (Part #DEI-L8-1). This glue will allow you to re-stack the train at any time, and will not damage the paint.
Back to deLuxe innovations 48' Smooth Side Container Page

Back to deLuxe innovations Page
---
To contact N Scale Supply email to:
sales@nscalesupply.com
Back to Catalog Page
© Copyright 2001 by Solution Development, Inc.