Hamburg Süd - 20' Corrugated Side Container
Part #DEI-3080 N Scale Supply Price: $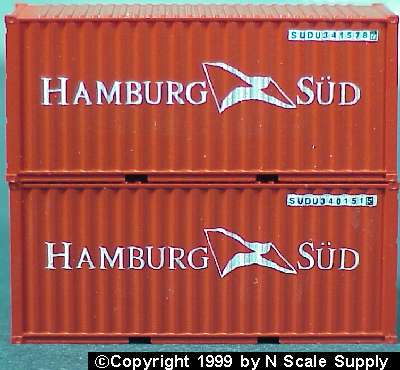 Hamburg Süd is the largest privately held shipping company in Germany with a fleet of 70 ships of various designs. Their container fleet is over 68,000 strong including 35,000 20' dry box containers like the pair presented here. In another example of the shipping merger movement, Hamburg Süd recently acquired Columbus Line.
20' Containers are used in place of 40' boxes when smaller batches of freight are shipped or when heavy cargoes would max out the highway weight limits long before a 40' box would fill to the top.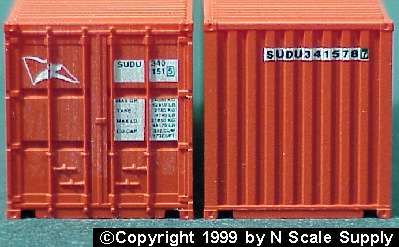 End View
The model has a removable bottom, so weights can be installed as required. When used in the bottom well of deLuxe's TwinStack, MDC's Husky Stack or Con-Cor's All Purpose Husky Stack a weight is suggested, such as the deLuxe innovations Container Weights. When used in the lower well with the Walthers Thrall car or the upper position in any of the above, no weight is required.
To attach one container to another, use deLuxe innovations Container Glue (Part #DEI-L8-1). This glue will allow you to re-stack the train at any time, and will not damage the paint.
Back to deLuxe innovations 20' Corrugated Side Container Page

Back to deLuxe innovations Page
---
To contact N Scale Supply email to:
sales@nscalesupply.com
Back to Catalog Page
© Copyright 1999, 2000 by Solution Development, Inc.