| | | |
| --- | --- | --- |
| | deLuxe innovations | |
Southern Pacific
Gunderson Shallow Rib Woodchip Car
| | | |
| --- | --- | --- |
| Single | Part # DEI-16010 | N Scale Supply Price: |
| 6-Pack | Part #DEI-16010-6 | N Scale Supply Price: |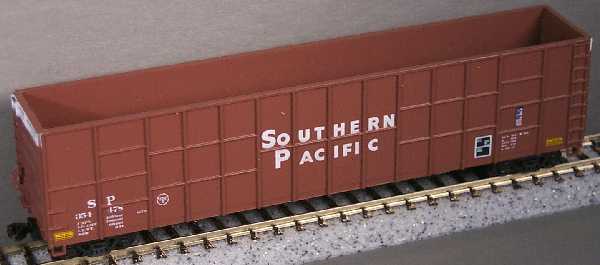 Wherever paper is made you will find woodchip cars. Southern Pacific hauls trains from "the Texas Termite" to "the Portland Hauler" across their entire system. This car features 7,452 cubic feet of interior space, and has fixed ends for use in roll over service. SP rosters nearly 2,000 of these cars. The car was designed by Gunderson / FMC to meet the SP specs, and then offered as a product. Many of these cars have been refurbished and painted for Golden West Service.

Back to deLuxe innovations Shallow Rib Woodchip Car page
Back to deLuxe innovations page
---
Email to sales@nscalesupply.com
Back to Catalog Page
© Copyright 1998 by Solution Development, Inc.