DCC Decoder Installation: Kato SD80/90MAC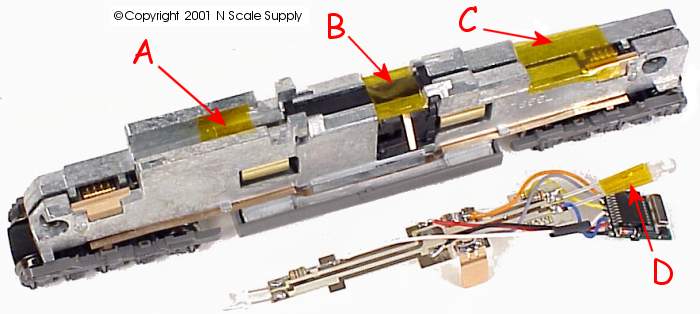 Step 5: INSTALLIING THE LIGHT BOARD
A: Cut 3/8" of the Kapton tape and line the inside of the front light trough. Hold the light board alongside to make sure you get it positioned correctly. You want to make sure the connection at the LED and the resistor is well protected from touching the frame.
B:Cut a second 3/8" piece and place over the frame above the motor contacts. This will keep the underside of the light board from contacting the frame.
C: About 3/4" to 1" will work to protect the decoder from the frame. Try to place it slightly up on the lip towards the front.
D: Wrap a small piece around the rear LED leads up near the bulb end. This will protect the LED from contacting the decoder itself, it will be laying directly on top of it.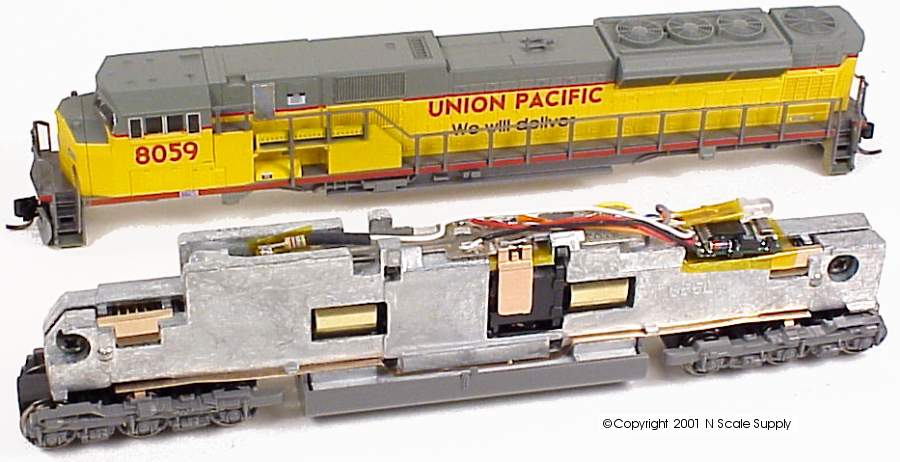 Carefully install the light board into the frame. Poke the front end in first, carefully slide the center over the motor making sure that both motor contacts are under the tabs. The back end of the decoder will also mate with the frame. Slide the whole assembly forward until it seats.
Go ahead and test the installation. Verify that the decoder and resisitors are not touching any part of the frame. Place it on the track, select address #03 and go. I have a test track that I use for this purpose. It is wired with an ON/OFF switch. With the switch OFF the loco is placed on the track. Then I can apply power to the track by flipping the switch to ON. If I detect a problem it can quickly be thrown to OFF. This has kept me from completely frying a couple of decoders in the past.
If everything worked as expected tuck all the wires above the center of the light board. Make sure nothing is crossing over the rear resisitor (the shell won't snap down completely). Position the decoder squarely under the LED making sure it is not touching the frame. Snap the shell back on, make sure the underframe detailiing part is sitting inside the lip of the fuel tank.
Your done, go run your engine.