Trinity 53' "RAF53C" 5-Unit Spine Car

- The Prototype
Spine cars are one of the most recognizable freight cars on the rails today. Named after their simple, spine-like appearance, these versatile cars carry anything from highway trailers, to international, corrugated containers.

Built in late 1997 by Trinity Rail for TTX, these 5-Unit Spine Car's feature TTAX reporting marks. While very similar to other 53' Trinity Spine Cars, the "RAF53C" class boasts nearly 250, 5-car sets on the TTX roster.
- The Models
Finally! A ready-to-run spine car in N Scale! Don't worry, we've done our homework! As always, this project started with actual blueprints and measurements; the result is 100% authentic dimensions. Furthermore, like the prototype, the N Scale models were designed for versatility.

The models feature a die-cast metal frame and dozens of separately applied plastic and etched-metal components. From there, each car is painted to exact TTX yellow and lettered as appropriate for the RAF53C fleet.

These cars ride on our all-new 70-Ton ASF Ride Control truck with fine-scale metal wheels! On top of that, the cars feature body mounted Micro-Trains couplers! You can bet that empty or loaded, these cars will track, and look great as they glide down your rails.
- Features
Ready-To-Run
Die-Cast Metal & Plastic
Fine-Scale Detail All Around
Chemically Etched Walkways
Accurately Painted/Printed
Prototypical Ride Height
Collapsed or Raised Hitches!
ALL-NEW 70-Ton ASF Ride Control Trucks!
ALL-NEW Scale Profile Metal Wheels
Body-Mounted Micro-Trains Couplers
Four Unique Numbers!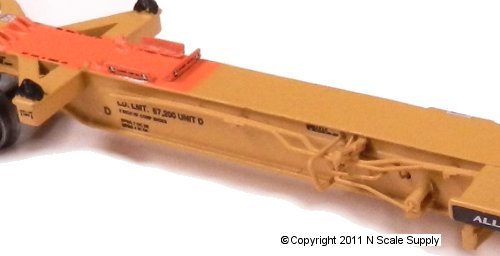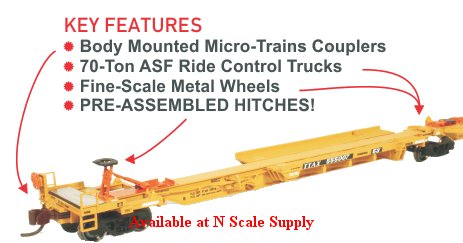 | Description | Road # | Image | MSRP | Our $ | Part # |
| --- | --- | --- | --- | --- | --- |
| TTAX 5-Unit | 4 Road Numbers | | $124.95 | | BLM-12005 |