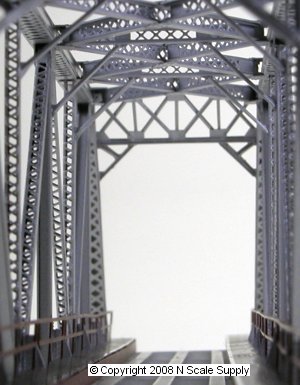 The Prototype
Located on the Union Pacific mainline in Southern California, the prototype for this model dates back to 1938. Spanning a narrow section of the Mojave River that runs above ground, the massive 150-foot long bridge is an important link in Union Pacific's LA&SL line that links Los Angeles, Salt Lake, and points further east.
Afton Canyon, home of this truss bridge, is located between Los Angeles and Las Vegas on the LA&SL line as mentioned above. Near such railfan hot spots as Cajon Pass and Tehachapi Loop, Afton Canyon offers an unbelievable backdrop for Southern Californian rail fanning. If you're planning a rail fanning trip in Southern California, don't miss this spot (be advised that train traffic is sporadic at best, and exploring the canyon requires 4 wheel drive, a full tank of gas, water, and at least a full morning or afternoon).
The Model
This is BLMA's first first completely assembled brass model. Painstakingly recreated by hand, this model features extremely accurate dimensions, rivet detail, and more! Spanning a solid 150 scale feet, the scale model length is 11¼" actual length.
This exquisite model is available in both painted black and silver versions (BLM-2000 is Silver; BLM-2001 is Black).