Bullfrog Snot Liquid Traction Tires
1 ounce bottle contains hundreds of tires
Part #BFS-SNOT
N Scale Supply Price: $22.99
New: January 2009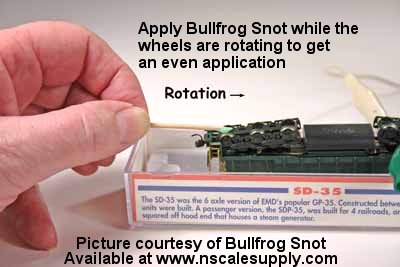 CLICK HERE FOR COMPLETE INSTALL INSTRUCTIONS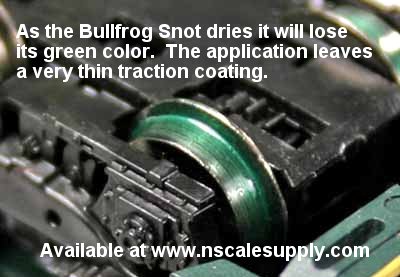 BULLFROG SNOT is a sophisticated, specially secret formulated, room temperature curing, one-part "green" liquid plastic with very unique properties. BULLFROG SNOT was concocted and brewed by a veteran N-scaler specifically to be the ideal solution for improving traction on model railroads, but it can surely apply to numerous other quirky little problems (slot cars, Lego wheels, etc) left to be discovered by your creative fertile imagination.
BULLFROG SNOT is easily applied, and easily removed. Just a toothpick is all you'll need to install, an Xacto knife to remove.
It's ready to go - no multi-part mixing.