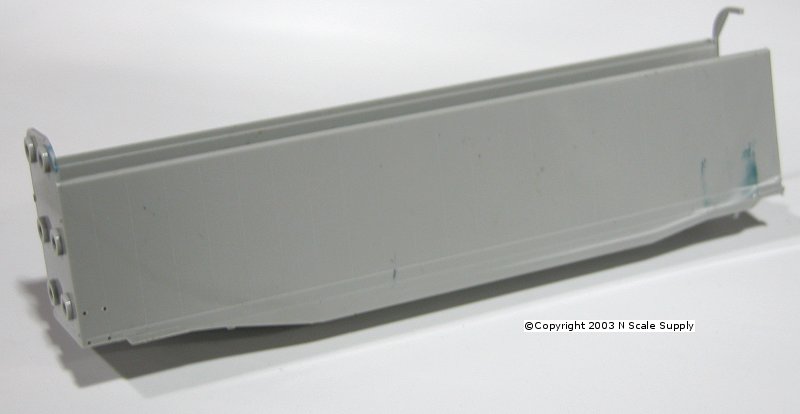 Shown was a sample of the Automax Autorack shell and the Coal Porter. We were told that actual production was further along than this and this was all they were able to share with us. The Coal Porter will probably be sold in 5 or 6-packs.
ATLAS

By far the biggest suprise was the 2-truck Shay by Atlas. This is a brass sample. The actual production will be die-cast and plastic. No delivery dates or even ball park pricing available.

Atlas 2-6-0 Mogul sample. This is the MicroAce engine that Atlas is utilizing the tooling for their own engine.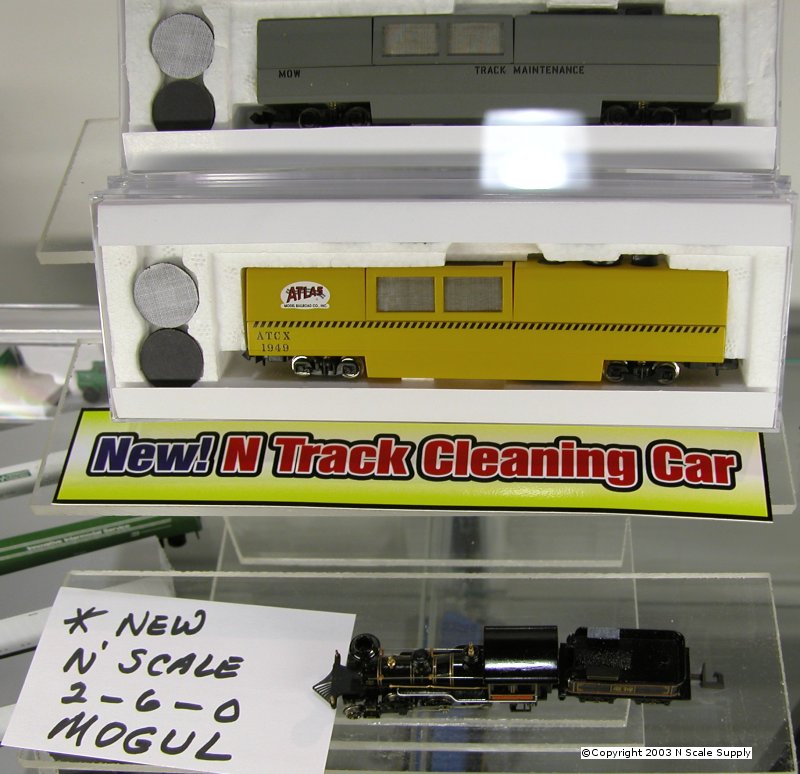 Atlas Track Cleaner (this is the Tomix unit with a vacumn built-in).
BACHMANN

Bachmann has announced intentions to do a USRA 2-6-6-2, this is the HO model they have done. Also they are doing a 4-6-0 similar to their recent HO offering.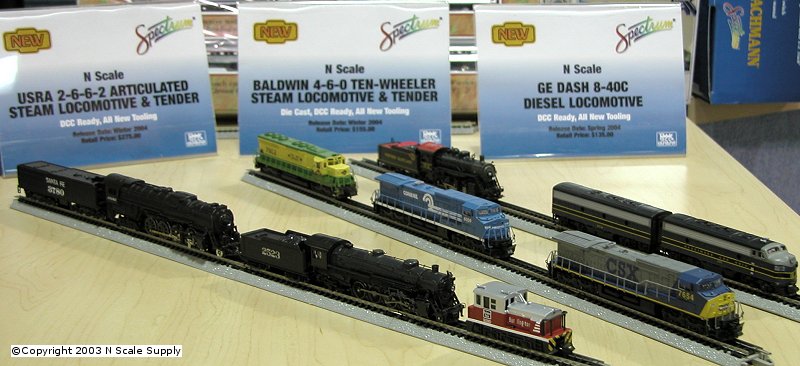 Bachmann N Scale Engine Display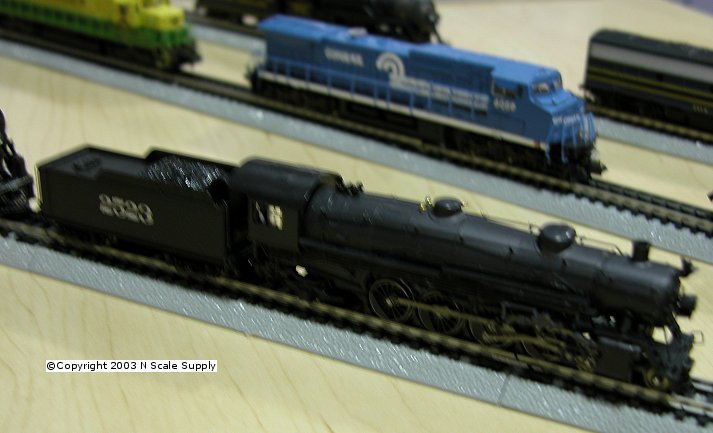 Bachmann Mountain (sorry for the bad picture, this was actualy a very nice looking model, at least the quality of the 2-8-0)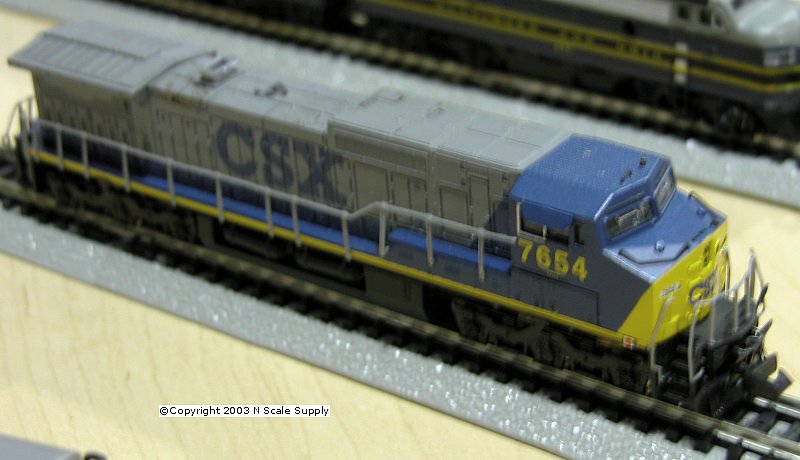 Bachmann C40-8W sample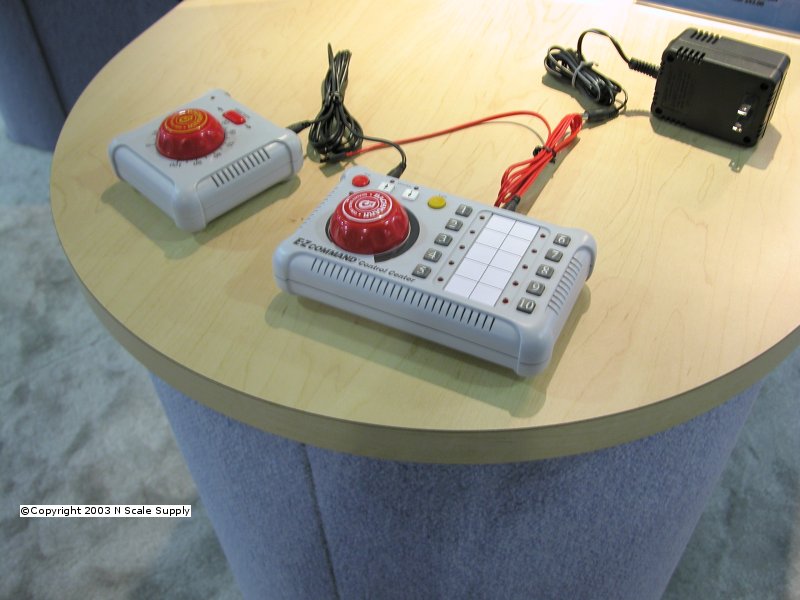 Bachmann EZ Commander DCC System. An entry level system, very easy to use.
CLASSIC METAL WORKS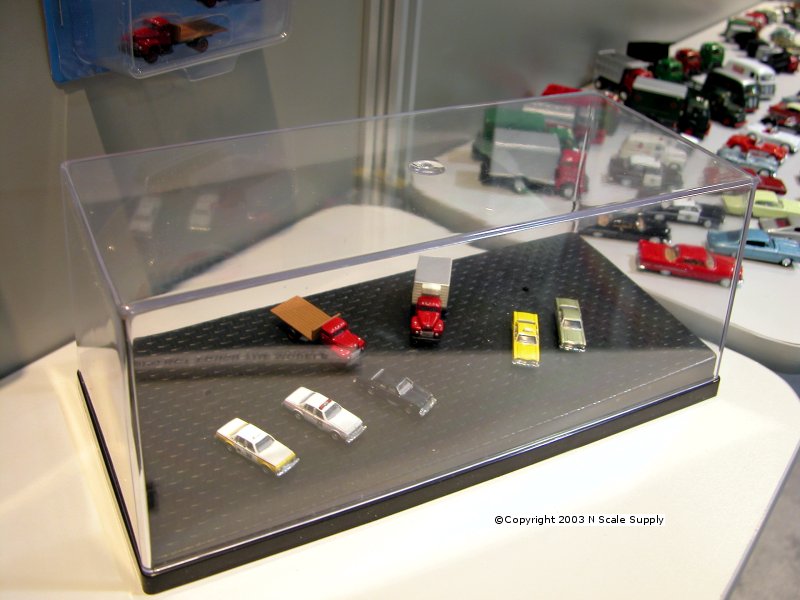 Classic Metal Works new vehicles

Classic Metal Works product line
DELUXE INNOVATIONS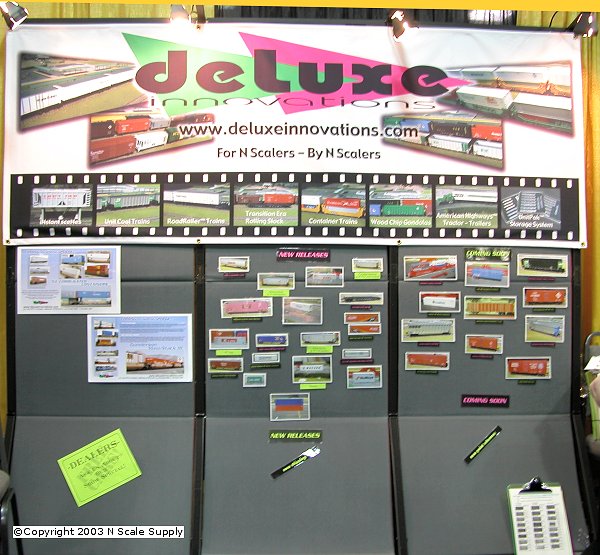 deLuxe innovations announcements: Maxi Stack III 5-unit Double Stack Car with Die-Cast body and injection molded and etched metal details. Also announced a 53' Corrugated Steel Container.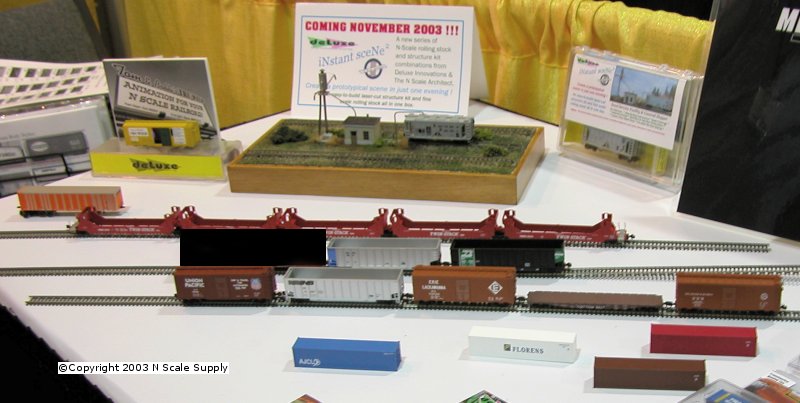 deLuxe innovations new products: BN, NS and DAPX Coal Porter Gondola, Greenbrier Leasing TwinStack, UP, EL and D&H 40' Box Cars, AJCL and Florens 40' Containers. Also a Sanding Facility kit.
KATO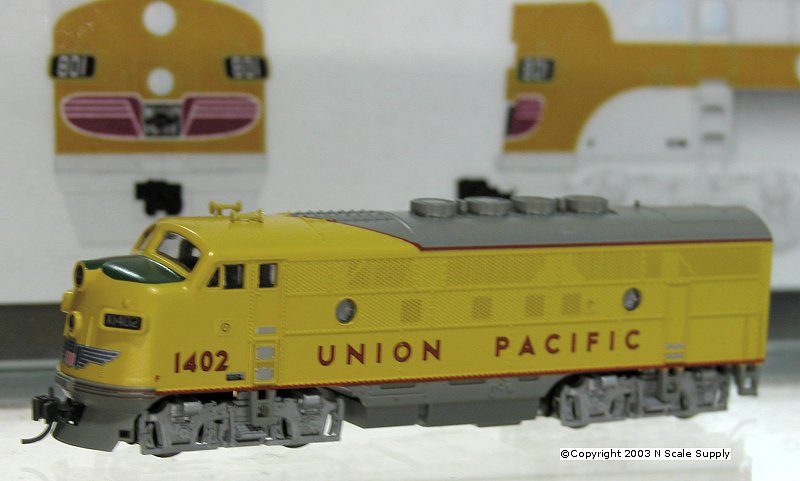 Kato Union Pacific F3 with new DCC ready chassis. The chassis is supposed to be similar in design to the E8 and PA and will take a similar decoder. Bethgon Coal Porter to be announced next followed by AC4400s.
MDC

MDC 2-6-0 with lower tender.
MODEL POWER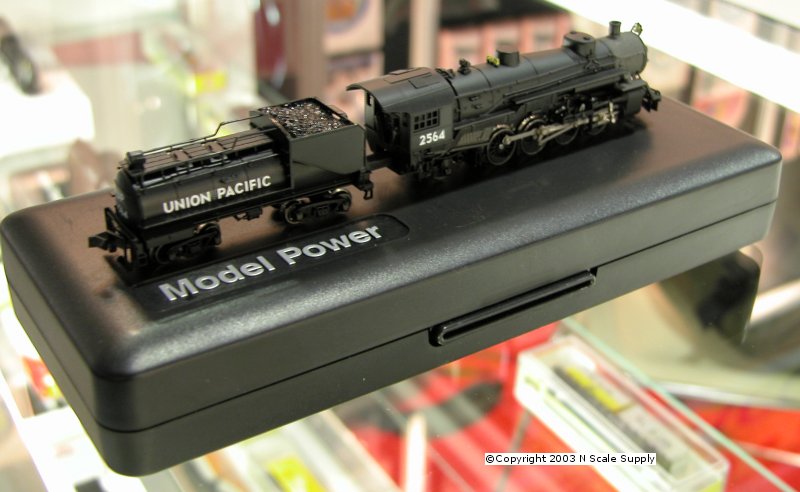 Model Power Union Pacific 2-8-2 USRA Light Mikado with Vandy Tender. Will also be released with a standard tender and the tenders will be available separately. More steam to come later.
MICRO-TRAINS

First up the Micro-Trains Southern Autorack. Pricing is yet to be determined. They have announced intention to do a Bi-Level open and fully enclosed Bi- and Tri-Levels.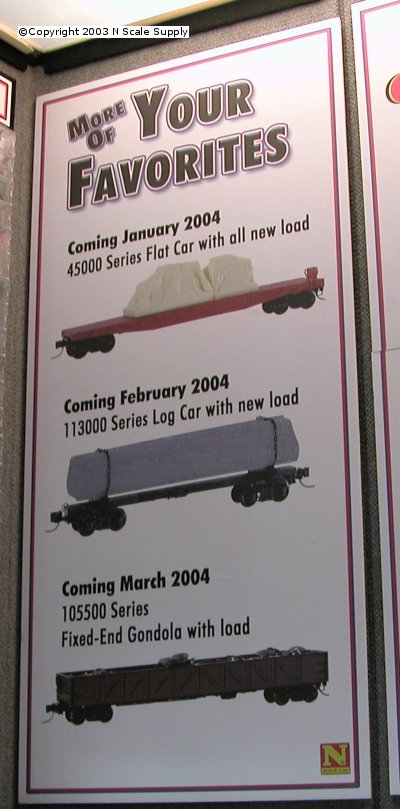 Micro-Trains also was displaying a poster of coming releases.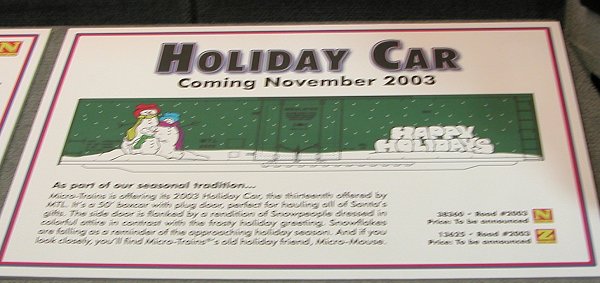 Micro-Trains Holiday announcement.
NCE
NCE was showing decoders for Atlas SD50/60s and GPs/U25B. They are also doing a decoder for the IMR SD4xT-2 which is predominately done.
NORTH AMERICAN N SCALE
Kirk Reddie provided a comprehensive night tour of Las Vegas while making only right-hand turns. During this entire process he was stress testing the A/C capability of a Chrysler Concorde. He was showing off advance copies of issue #20 of N Scale Railroading due at your favorite dealer next week.
RED CABOOSE
Red Caboose had samples of single panel Centerbeams and a small poster for the 89' Fully Enclosed Autorack.
SOUNDTRAXX
Soundtraxx was showing their new SurroundTrax system providing six sound zones on a DC or DCC layout, this product is hoped to be released summer of 2004. Also on display was Tsunami decoder which is started to get small enough to consider for N Scale.
TRIX

Trix Post-War era Occupation Train - US Military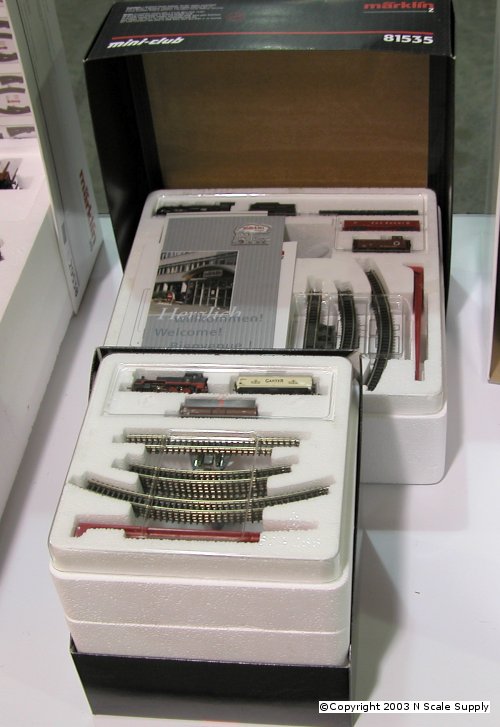 Marklin was showing two Z Scale boxed sets, one US prototype and one European.
WALTHERS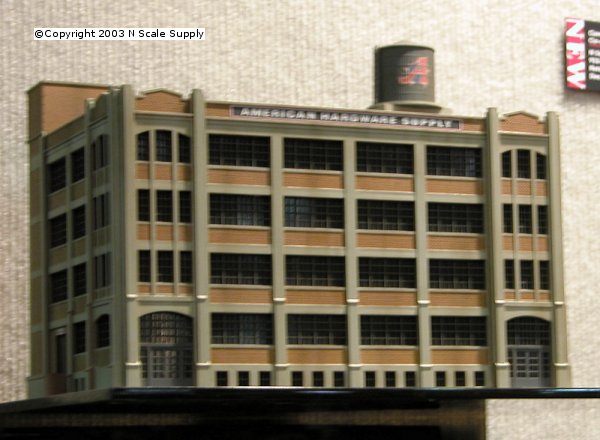 Walthers American Hardware Structure kit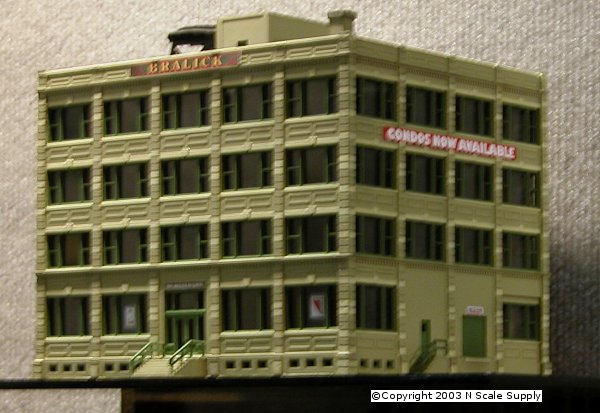 Walthers Bralick Structure kit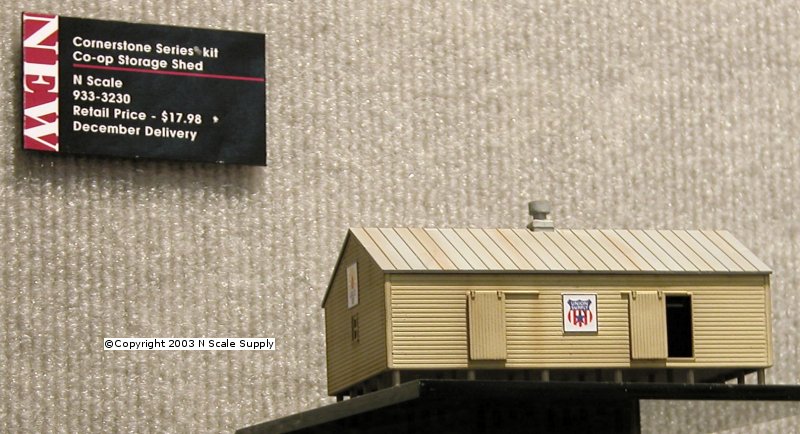 Walthers Co-Op Storage Shed Structure kit
WOODLAND SCENICS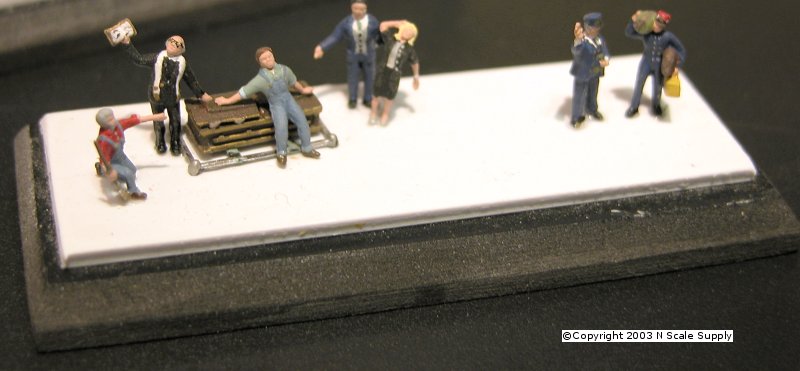 Woodland Scenics Accent Series of figures.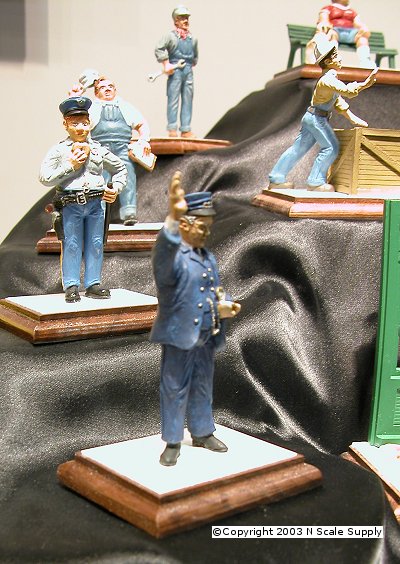 Woodland Scenics makes the prototypes which are about 5-6 inches in height, and then scales them to HO and N Scale.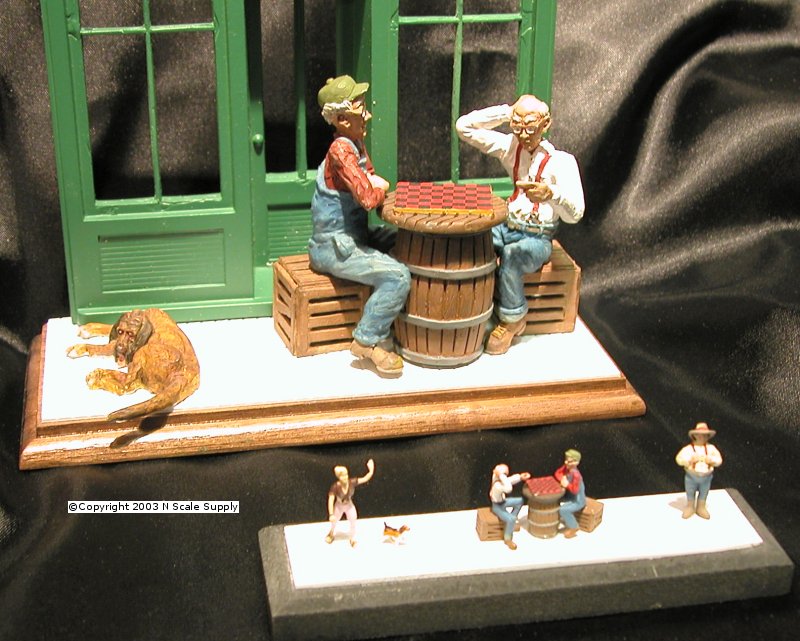 Woodland Scenics checker scene prototype and HO figures.