Ford LNT9000 Tractor Cab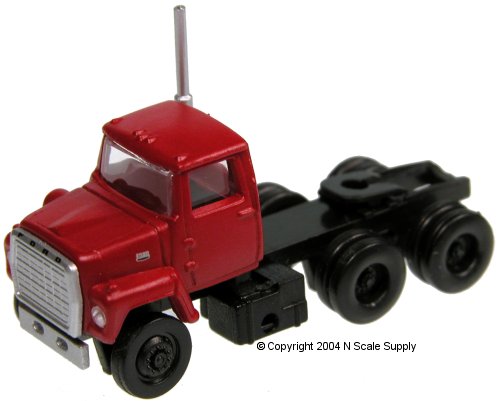 Based on Ford's 1984 LNT 9000 Tractor Cab, Atlas' N scale model is ready-to-run and features a seat, square fuel tanks with built-in steps, steering wheel, and rubber tires. Decorated models include printed Ford logos. This is an officially licensed Ford product.
Two cabs provided per package.

Color
Image
MSRP
Our $
Part #
Undec.
2 Pack
$21.95
ATL-2920
Black
2 Pack
$21.95
ATL-2921
Dark Blue
2 Pack
$21.95
ATL-2922
Green
2 Pack
$21.95
$17.56
ATL-2923
Red
2 Pack
$21.95
ATL-2924
White
2 Pack
$21.95
ATL-2925
Yellow
2 Pack
$21.95
ATL-2926
Medium Blue
2 Pack
$21.95
ATL-2927
Orange
2 Pack
$21.95
ATL-2928
Dark Green
2 Pack
$21.95
ATL-2913
Brown
2 Pack
$21.95
ATL-2914
Gray
2 Pack
$21.95
ATL-2915
Orange/Blue
2 Pack
$21.95
ATL-2916
Red/White
2 Pack
$21.95
ATL-2917
White/Black
2 Pack
$21.95
ATL-2918
Yellow/Green
2 Pack
$21.95
ATL-2919
Delaware & Hudson
2 Pack
$23.95
$19.16
ATL-60 000 021
Vermont Railway
2 Pack
$23.95
$19.16
ATL-60 000 023
Union Pacific
2 Pack
$23.95
ATL-60 000 079
Burlington Northern
2 Pack
$23.95
$19.16
ATL-60 000 080
Canadian National
2 Pack
$23.95
$19.16
ATL-60 000 081
Louisville & Nashville
2 Pack
$23.95
$19.16
ATL-60 000 082
Rio Grande
2 Pack
$23.95
$19.16
ATL-60 000 083
Santa Fe
2 Pack
$23.95
ATL-60 000 084
Cory's Cartage
(Yellow/Green/Black)
$13.50
ATL-60 000 000
DC Transportation (White/Black)
$13.50
ATL-60 000 001
RP Transfer (Black/White)
$13.50
ATL-60 000 002
Burlington Northern
$14.95
ATL-60 000 020
Providence & Worcester
$14.95
ATL-60 000 022
BNSF
$14.95
ATL-60 000 024
CSX
$14.95
ATL-60 000 025
Kansas City Southern
$14.95
ATL-60 000 026
Norfolk Southern
$14.95
ATL-60 000 027
Union Pacific
$14.95
ATL-60 000 028
Lucky Lager
1 Per Pack
$22.95
$18.36
ATL-60 000 142

Old Milwaukee
1 Per Pack
$22.95
$18.36
ATL-60 000 143

Old Style
1 Per Pack
$22.95
$18.36
ATL-60 000 144

Pabst Blue Ribbon
1 Per Pack
$22.95
$18.36
ATL-60 000 145

Schlitz
1 Per Pack
$22.95
$18.36
ATL-60 000 146

Stroh's
1 Per Pack
$22.95
$18.36
ATL-60 000 147