EMD SD-9 Diesel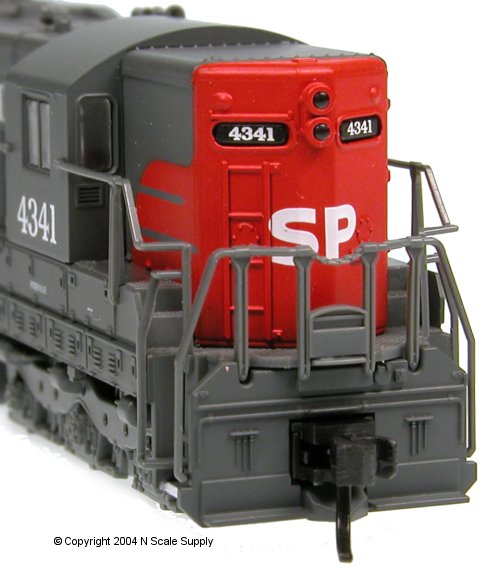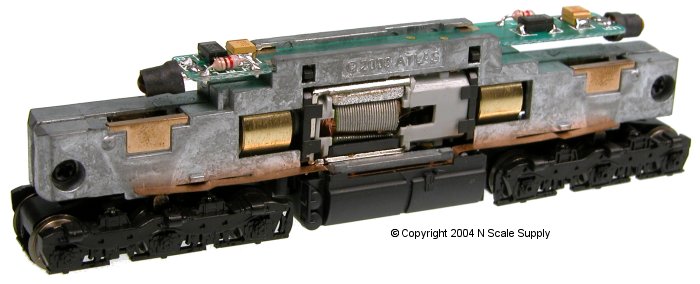 The Chassis is DCC Ready


Shown here with an NCE-N12A0 Decoder installed.

Model Information
Features include:
Innovative Scale Speed™ motor
Direction Lighting using golden-white LED's
Blackened metal wheels
Low Friction Drive /dual brass flywheels
New White LED's
Factory-equipped with body mount AccuMate® magnetic knuckle couplers
Will have a DCC ready frame and a DCC board is in development for 2004
PERFORMANCE INFORMATION
NOTE: The following categories are the opinion of N Scale Supply and are very subjective. These are provided to give you a rough idea of the quality of the product. Your mileage may vary.
Performance:
Very smooth performer. Excellent low end speed range (this engine has the new Atlas slow speed motor). Measured top speed was 139mph. Top speedRealistic speed range (top speed seems to be about 60mph). We dug out an old Atlas/Kato SD9 and compared the performance. Of course since this new one has the slow speed motor we didn't expect them to run together, what we were amazed at was the difference. The older unit was approximately twice as fast.
Sound/Noise level:
Again, comparing to the older Atlas / Kato SD9 this new unit is remarkably quieter. I had a Kato SD70MAC on hand and so compared the two. First, the Kato was almost exactly twice as fast as the SD9. When you slowed the Kato back from Mach 3 to a reasonable speed the sound level was very close. I couldn't tell you which was quieter, it was too close to call.
Overall Value:
Atlas has improved the performance of an excellent Classic Engine.

Road Name
Road #
Picture
DCC / Analog
MSRP
Our $
Part #
Undecorated
without dynamic brakes
no #
Analog
$124.95
ATL-53500
Undecorated
with dynamic brakes
no #
Analog
$124.95
ATL-53501
Baltimore & Ohio
1834
Analog
$94.95
ATL-53503
1831
Analog
$94.95
ATL-53504
Southern
205
Analog
$94.95
ATL-53520
1831
Analog
$94.95
ATL-53521
Central of Georgia
203
Analog
$104.95
ATL-53524
206
Analog
$104.95
ATL-53525
Chicago & North Western
1707
Analog
$104.95
ATL-53526
1709
Analog
$104.95
ATL-53527
Norfolk & Western (Black/White)
2342
Analog
$104.95
ATL-53528
$139.95
ATL-53548
2359
Analog
$104.95
ATL-53529
$139.95
ATL-53549
Burlington Northern
6195
Analog
$109.95
ATL-53554
$144.95
ATL-53565
6206
Analog
$109.95
ATL-53555
$144.95
ATL-53566
Black River
9581
Analog
$109.95
ATL-53556
$144.95
ATL-53567
California Northern
202
Analog
$109.95
ATL-53557
$144.95
ATL-53568
203
Analog
$109.95
ATL-53558
$144.95
ATL-53569
Central of Georgia
202
Analog
$109.95
ATL-53559
$144.95
ATL-53570
207
Analog
$109.95
ATL-53560
$144.95
ATL-53571
Portland & Western
1851
Analog
$109.95
ATL-53561
$144.95
ATL-53572
1854
Analog
$109.95
ATL-53562
$144.95
ATL-53573
Southern Pacific
3914
Analog
$109.95
ATL-53563
$144.95
ATL-53574
3943
Analog
$109.95
ATL-53564
$144.95
ATL-53575
Baltimore & Ohio
1835
Analog
$114.95
ATL-40 001 828
$149.95

ATL-40 001 842

1840
Analog
$114.95
ATL-40 001 829
$149.95
ATL-40 001 843
Chicago & Illinois Midland
50
Analog
$114.95
ATL-40 001 830
$149.95

ATL-40 001 844

54
Analog
$114.95
ATL-40 001 831
$149.95
ATL-40 001 845
Duluth, Missabe & Iron Range
102
Analog
$114.95
ATL-40 001 832
$149.95

ATL-40 001 846

118
Analog
$114.95
ATL-40 001 833
$149.95
ATL-40 001 847
Elgin, Joliet & Eastern
601
Analog
$114.95
ATL-40 001 834
$149.95

ATL-40 001 848

604
Analog
$114.95
ATL-40 001 835
$149.95
ATL-40 001 849
Norfolk & Western
2344
Analog
$114.95
ATL-40 001 836
$149.95

ATL-40 001 850

2349
Analog
$114.95
ATL-40 001 837
$149.95
ATL-40 001 851
Pennsylvania
7601
Analog
$114.95
ATL-40 001 838
$149.95

ATL-40 001 852

7605
Analog
$114.95
ATL-40 001 839
$149.95
ATL-40 001 853
Rio Grande
5305
Analog
$114.95
ATL-40 001 840
$149.95

ATL-40 001 854

5313
Analog
$114.95
ATL-40 001 841
$149.95
ATL-40 001 855
Southern Pacific (LLW)
5399
Analog
$124.95
ATL-40 003 670
$159.95

ATL-40 003 685

Southern Pacific
5428
Analog
$124.95
ATL-40 003 671
$159.95

ATL-40 003 686

5440
Analog
$124.95
ATL-40 003 672
$159.95

ATL-40 003 687

Southern Pacific
5472
Analog
$124.95
ATL-40 003 673
$159.95

ATL-40 003 688

Elgin Joliet & Eastern
600
Analog
$124.95
ATL-40 003 674
$159.95

ATL-40 003 689

601
Analog
$124.95
ATL-40 003 675
$159.95

ATL-40 003 690

Rio Grande
5310
Analog
$124.95
ATL-40 003 676
$159.95

ATL-40 003 691

5312
Analog
$124.95
ATL-40 003 677
$159.95

ATL-40 003 692

Winchester & Western
954
Analog
$124.95
ATL-40 003 678
$159.95

ATL-40 003 693
Back to N Scale Supply catalog page for: Atlas