EMD SD-7 Diesel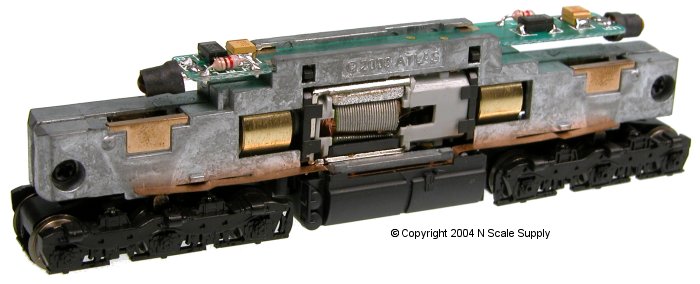 The Chassis is DCC Ready


Shown here with an NCE-N12A0 Decoder installed.

Prototype Information
| | |
| --- | --- |
| Model: | EMD SD-7 |
| Engine: | 567B |
| Cylinders: | 16 |
| Horsepower: | 1,500 |
| Time Period Produced: | 1952 - 1953 |
| US Market Size: | Approx 180+ |
| Canada/Mexico: | None |
| Notes: | The Atlas Classic N Scale SD-7 Locomotive is based on the prototype manufactured by EMD from February 1952 to November 1953. Utilizing a 1,500 hp engine and a longer underframe than the GP-7, the SD-7 was the first locomotive to use EMD's Flexicoil truck. The SD7s are distinguished by having their classification lights set in from the edge of the hood, on SD9s and later they were at the outer edge of the hood. |
Model Information
Features include:
Innovative Scale Speed™ motor
Direction Lighting using golden-white LED's
Blackened metal wheels
Low Friction Drive /dual brass flywheels
Factory-equipped with body mount AccuMate® magnetic knuckle couplers
Will have a DCC ready frame
PERFORMANCE INFORMATION
NOTE: The following categories are the opinion of N Scale Supply and are very subjective. These are provided to give you a rough idea of the quality of the product. Your mileage may vary.
Performance:
Very smooth performer. Excellent low end speed range (this engine has the new Atlas slow speed motor). Measured top speed was 139mph. Top speedRealistic speed range (top speed seems to be about 60mph). We dug out an old Atlas/Kato SD9 and compared the performance. Of course since this new one has the slow speed motor we didn't expect them to run together, what we were amazed at was the difference. The older unit was approximately twice as fast.
Sound/Noise level:
Again, comparing to the older Atlas / Kato SD9 this new unit is remarkably quieter. I had a Kato SD70MAC on hand and so compared the two. First, the Kato was almost exactly twice as fast as the SD9. When you slowed the Kato back from Mach 3 to a reasonable speed the sound level was very close. I couldn't tell you which was quieter, it was too close to call.
Overall Value:
Atlas has improved the performance of an excellent Classic Engine.

Road Name
Road #
Picture
DCC / Analog
MSRP
Our $
Part #
Undecorated
without dynamic brakes
no #
Analog
$124.95
ATL-53600
Undecorated
with dynamic brakes
no #
Analog
$109.95
ATL-53601
Bessemer & Lake Erie
451
Analog
$124.95
ATL-40 003 664
$159.95
ATL-40 003 679
453
Analog
$124.95
ATL-40 003 665
$159.95
ATL-40 003 680
Milwaukee Road
501
Analog
$124.95
ATL-40 003 666
$159.95
ATL-40 003 681
512
Analog
$124.95
ATL-40 003 667
$159.95
ATL-40 003 682
Minneapolis & St. Louis
852
Analog
$124.95
ATL-40 003 668
$159.95
ATL-40 003 683
952
Analog
$124.95
ATL-40 003 669
$159.95
ATL-40 003 684
Burlington
316
Analog
$109.95
ATL-53620
$144.95
ATL-53650
324
Analog
$109.95
ATL-53621
$144.95
ATL-53651
Chicago & North Western
1660
Analog
$109.95
ATL-53622
$144.95
ATL-53652
1661
Analog
$109.95
ATL-53623
$144.95
ATL-53653
Back to N Scale Supply catalog page for: Atlas