EMD SD-60 Diesels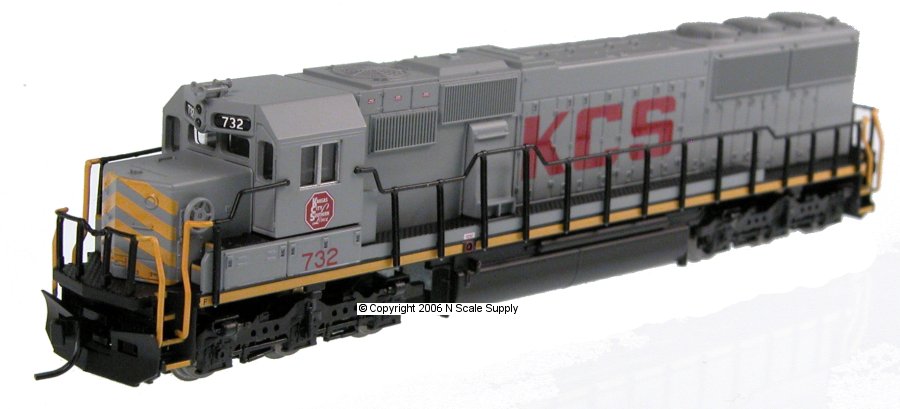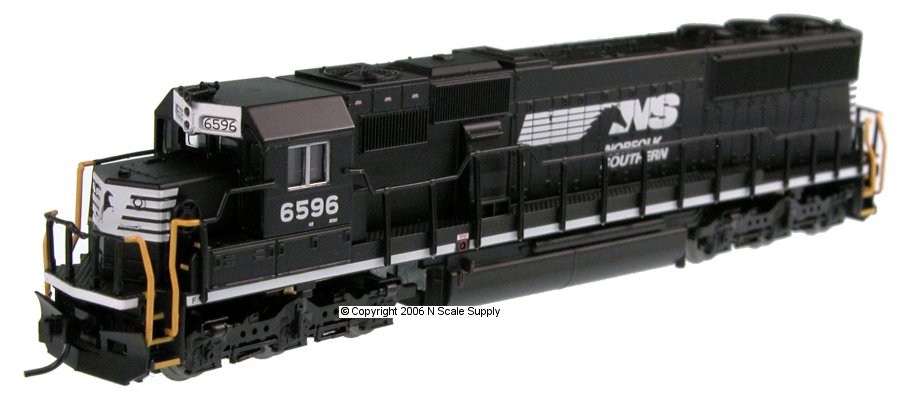 EMD introduced the SD-50 in the early 1980s with a 16 cylinder, 3500 h.p. engine to attain the power that they had early gotten from a 20 cylinder locomotive. The new, longer frame allowed the dynamic brake resistors to be relocated to a cooler area found between the central air intake and the cab.

The SD-60 varied little from its predecessor visually, the main changes taking place internally with the aging 645F engine being replaced by the 710G. The two locomotives can be distinguished by the door panels; the SD-50 features four latched doors in six door panels whereas the SD-60 has six latched doors in eight door panels.

The "wide nose" or "safety cab" was first offered as an option to US railroads in 1988. Union Pacific received the first units in early 1989. In 1991, the contour of the nose was changed slightly, going from a 3-piece to 2-piece windshield and tapering the sides of the nose to improve visibility for the crew. Burlington Northern was the first recipient of the revised model.
Features Include:
Directional lighting
Separate plow and winterization hatch that can be installed by the modeler
Blackened wheels
Slower speed motor for closer to scale speeds
Full pilots with body mount AccuMate® magnetic knuckle couplers!
Golden-White LED's

DCC & Sound Operation Features (GOLD LOCOMOTIVES ONLY)
• Supports all DCC-programming modes
•DCC includes RailCom and RailComPlus, with 14, 28 or 128 speed steps and with 2-digit and 4-digit addressing.
•Flexible mapping of function keys F0 to F28.
•A total of 6 DCC function outputs are available, and all can be function mapped (disable, brightness, light effects) individually
•Follows all NMRA DCC standards and recommended practices.

ESU LokSound Features (GOLD LOCOMOTIVES ONLY):
•Over 20 sound effects are available, including engine start-up and shutdown, prime mover sounds through all eight notches, bell, air horn, air compressor, dynamic brakes and more.
•There are up to 16 user-selectable horns, 2 user-selectable bells, and 2 user-selectable synchronized brake squeals.
•Manual and Automatic Notching modes with the ability to change modes "on the fly" are provided for true realism.
•Equipped with ESU's Exclusive "Full Throttle" features for ultimate realism in prototype running.

Road Name
Road #
Image
DCC /
DC
MSRP
Our $
Part #
Undecorated SD60

No #
DC
$139.95
ATL-40 002 027
$249.95
ATL-40 002 058
New Road Names:
Helm Leasing (Blue/White/Black)
5966
$134.95
ATL-49129
5992
DC
$99.95
ATL-49041
$134.95
ATL-49130
5998
DC
$99.95
ATL-49042
Kansas City Southern (Grey/Red/Yellow)
728
DC
$99.95
ATL-49043
$134.95
ATL-49131
731
DC
$99.95
ATL-49044
$134.95
ATL-49132
732
DC
$99.95
ATL-49045
CSX (Grey/Blue/Yellow)
8707
DC
$124.95
ATL-49049
$159.95
ATL-49135
8708
DC
$124.95
ATL-49050
$159.95
ATL-49136
Soo Line (Red/White)
6042
DC
$124.95
ATL-49051
$159.95
ATL-49137
6050
DC
$124.95
ATL-49052
$159.95
ATL-49138
6057
DC
$124.95
ATL-49053
CEFX Leasing
6012
DC
$129.95
ATL-49054
$169.95
ATL-49139
6016
DC
$129.95
ATL-49055
$169.95
ATL-49140
CSX
8707
DC
$129.95
ATL-49056
$169.95
ATL-49141
8715
DC
$129.95
ATL-49057
$169.95
ATL-49142
8717
DC
$129.95
ATL-49058
Indiana Railroad
6004
DC
$129.95
ATL-49059
$169.95
ATL-49143
6006
DC
$129.95
ATL-49060
$169.95
ATL-49144
6009
DC
$129.95
ATL-49061
Norfolk Southern
6574
DC
$129.95
ATL-49062
$169.95
ATL-49145
6607
DC
$129.95
ATL-49063
$169.95
ATL-49146
6666
DC
$129.95
ATL-49064
Panama Canal Railways
1870
DC
$129.95
ATL-49065
$169.95
ATL-49147
1871
DC
$129.95
ATL-49066
$169.95
ATL-49148
Soo Line
6013
DC
$129.95
ATL-49067
$169.95
ATL-49149
6025
DC
$129.95
ATL-49068
$169.95
ATL-49150
6039
DC
$129.95
ATL-49069
Union Pacific
5949
DC
$129.95
ATL-49070
$169.95
ATL-49151
5985
DC
$129.95
ATL-49071
$169.95
ATL-49152
5991
DC
$129.95
ATL-49072
Canadian National
5404
DC
$129.95
ATL-40 002 028
$169.95
ATL-40 002 059
5414
DC
$129.95
ATL-40 002 029
$169.95
ATL-40 002 060
5420
DC
$129.95
ATL-40 002 030
$169.95
ATL-40 002 061
EMD
8300
DC
$129.95
ATL-40 002 031
$169.95
ATL-40 002 062
8301
DC
$129.95
ATL-40 002 032
$169.95
ATL-40 002 063
8302
DC
$129.95
ATL-40 002 033
$169.95
ATL-40 002 064
GATX Locomotive Group
9014
DC
$129.95
ATL-40 002 034
$169.95
ATL-40 002 065
9059
DC
$129.95
ATL-40 002 035
$169.95
ATL-40 002 066
Soo Line
6044
DC
$129.95
ATL-40 002 036
$169.95
ATL-40 002 067
6053
DC
$129.95
ATL-40 002 037
$169.95
ATL-40 002 068
Susquehanna
3802
DC
$129.95
ATL-40 002 634
$169.95
ATL-40 002 659
3804
DC
$129.95
ATL-40 002 635
$169.95
ATL-40 002 660
3806
DC
$129.95
ATL-40 002 636
$169.95
ATL-40 002 661
Chicago & North Western
8001
DC
$129.95
ATL-40 002 637
$169.95
ATL-40 002 662
8010
DC
$129.95
ATL-40 002 638
$169.95
ATL-40 002 663
8015
DC
$129.95
ATL-40 002 639
$169.95
ATL-40 002 664
CIT Leasing
6001
DC
$129.95
ATL-40 002 640
$169.95
ATL-40 002 665
6003
DC
$129.95
ATL-40 002 641
$169.95
ATL-40 002 666
6013
DC
$129.95
ATL-40 002 642
$169.95
ATL-40 002 667
GMTX (P&W/Vermont Rwy)
9000
DC
$129.95
ATL-40 002 643
$169.95
ATL-40 002 668
Canadian Pacific
6222
DC
$139.95
$104.96
ATL-40 003 945
$249.95
$187.46
ATL-40 003 974
6247
DC
$139.95
$104.96
ATL-40 003 946
$249.95
$187.46
ATL-40 003 975
6257
DC
$139.95
$104.96
ATL-40 003 947
$249.95
$187.46
ATL-40 003 976
EMDX
9002
DC
$139.95
$104.96
ATL-40 003 948
$249.95
ATL-40 003 977
9041
DC
$139.95
$104.96
ATL-40 003 949
$249.95
ATL-40 003 978
9077
DC
$139.95
$104.96
ATL-40 003 950
$249.95
$187.46
ATL-40 003 979
Union Pacific
2174
DC
$139.95
ATL-40 003 951
$249.95
$187.46
ATL-40 003 980
2225
DC
$139.95
$104.96
ATL-40 003 952
$249.95
ATL-40 003 981
2230
DC
$139.95
$104.96
ATL-40 003 953
$249.95
$187.46
ATL-40 003 982
CSX
8701
DC
$139.95
$104.96
ATL-40 003 954
$249.95
$187.46
ATL-40 003 983
8709
DC
$139.95
$104.96
ATL-40 003 955
$249.95
$187.46
ATL-40 003 984
8714
DC
$139.95
$104.96
ATL-40 003 956
$249.95
$187.46
ATL-40 003 985
Back to N Scale Supply catalog page for : Atlas