EMD GP40 Diesels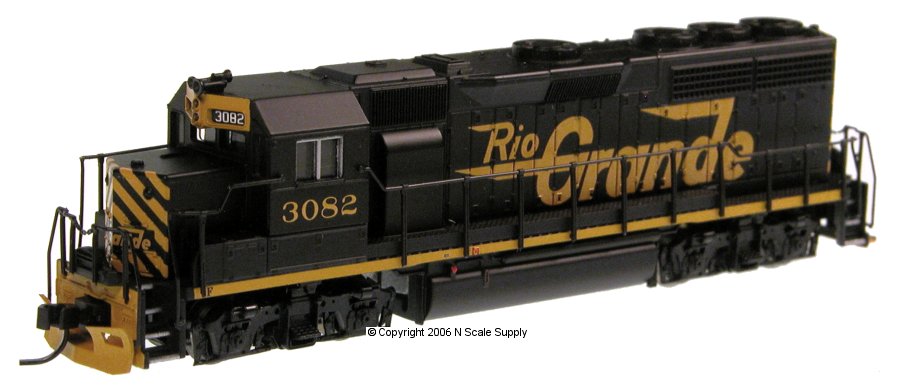 The N scale locomotive is modeled after Electro Motive Division's 2000 horsepower GP-38 diesel introduced in the late 1960's and early 1970's and is still in service today throughout North America. The GP-40 was the 3000 horsepower successor to the GP-38, best characterized by the three full size radiator fans on the rear of the roof. The GP40-2 had mostly internal changes but several outside details such as bolted down battery box covers and a roof that extended slightly beyond the rear of the cab differed it visually from the GP-40.
Prototype Information
Similar in appearance to the GP35 with a couple of exceptions. Two small exhaust stacks instead of the larger stack of the 35 and two radiator fans instead of the three on the 35.
Road Switcher
Trucks: B-B
Prime Mover: 3000 horsepower 645 16-cylinder engine
Model Information
Features include:
Directional lighting

Walkway safety tread

Blackened metal wheels

Scale Speed™ motor

Factory-equipped with AccuMate® knuckle couplers

Dynamic brakes (as appropriate by railroad)

Golden-white LEDs
DCC Operation Features GOLD LOCOMOTIVES ONLY)
Supports all DCC-programming modes

DCC includes RailCom and RailComPlus, with 14, 28 or 128 speed steps and with 2-digit and 4-digit addressing.

Flexible mapping of function keys F0 to F28.

A total of 6 DCC function outputs are available, and all can be function mapped (disable, brightness, light effects) individually

Follows all NMRA DCC standards and recommended practices.
ESU LokSound Features (GOLD LOCOMOTIVES ONLY)
Over 20 sound effects are available, including engine start-up and shutdown, prime mover sounds through all eight notches, bell, air horn, air compressor, dynamic brakes and more.

There are up to 16 user-selectable horns, 2 user-selectable bells, and 2 user-selectable synchronized brake squeals.

Manual and Automatic Notching modes with the ability to change modes "on the fly" are provided for true realism.

Road Name
Road #
Image
Control
MSRP
Our $
Part #
Undecorated
w/o Dynamic Brakes
n/a
n/a
ANALOG
$114.95
$86.21

ATL-40 002 763
n/a
$224.95
ATL-40 004 168
Undecorated
w/Dynamic Brakes
n/a
n/a
ANALOG
$114.95
ATL-40 002 764
n/a
$224.95
ATL-40 004 169
CP Rail
4600
ANALOG
$154.95
$116.21
ATL-40 005 248

$264.95
$198.71
ATL-40 005 273

4611
ANALOG
$154.95
$116.21
ATL-40 005 249

$264.95
$198.71
ATL-40 005 274

CSX
6604
ANALOG
$154.95
$116.21
ATL-40 005 250

$264.95
$198.71
ATL-40 005 275

6611
ANALOG
$154.95
$116.21
ATL-40 005 251

$264.95
$198.71
ATL-40 005 276

6641
ANALOG
$154.95
$116.21
ATL-40 005 252

$264.95
$198.71
ATL-40 005 277

CSX
9709
ANALOG
$154.95
$116.21
ATL-40 005 253

$264.95
$198.71
ATL-40 005 278

9720
ANALOG
$154.95
$116.21
ATL-40 005 254

$264.95
$198.71
ATL-40 005 279

Maine Central
303
ANALOG
$144.95
$108.71
ATL-40 005 255

$254.95
$191.21
ATL-40 005 280

312
ANALOG
$144.95
$108.71
ATL-40 005 256

$254.95
$191.21
ATL-40 005 281

316
ANALOG
$144.95
$108.71
ATL-40 005 257

$254.95
$191.21
ATL-40 005 282

MKT
239
ANALOG
$144.95
$108.71
ATL-40 005 258

$254.95
$191.21
ATL-40 005 283

242
ANALOG
$144.95
$108.71
ATL-40 005 259

$254.95
$191.21
ATL-40 005 284

245
ANALOG
$144.95
$108.71
ATL-40 005 260

$254.95
$191.21
ATL-40 005 285

Port Harbor "1st Responders"
8955
ANALOG
$154.95
$116.21
ATL-40 005 261

$264.95
$198.71
ATL-40 005 286

Santa Fe
2964
ANALOG
$144.95
$108.71
ATL-40 005 262

$254.95
$191.21
ATL-40 005 287

Pen Central
3144
ANALOG
$144.95
$108.71
ATL-40 005 263

$254.95
$191.21
ATL-40 005 288

3166
ANALOG
$144.95
$108.71
ATL-40 005 264

$254.95
$191.21
ATL-40 005 289

Pen Central
3182
ANALOG
$144.95
$108.71
ATL-40 005 265

$254.95
$191.21
ATL-40 005 290

Denver & Rio Grande Western
3132
ANALOG
$144.95
$108.71
ATL-40 005 266

$254.95
$191.21
ATL-40 005 291

3136
ANALOG
$144.95
$108.71
ATL-40 005 267

$254.95
$191.21
ATL-40 005 292

3152
ANALOG
$144.95
$108.71
ATL-40 005 268

$254.95
$191.21
ATL-40 005 293

Union Pacific
501
ANALOG
$144.95
$108.71
ATL-40 005 269

$254.95
$191.21
ATL-40 005 294

503
ANALOG
$144.95
$108.71
ATL-40 005 270

$254.95
$191.21
ATL-40 005 295

515
ANALOG
$144.95
$108.71
ATL-40 005 271

$254.95
$191.21
ATL-40 005 296

Susquehanna
3040
ANALOG
$154.95
$116.21
ATL-40 005 272

$264.95
$198.71
ATL-40 005 297

Operation Lifesaver 50th Anniversary
??
ANALOG
$154.95
$116.21
ATL-40 005 299

$264.95
$198.71
ATL-40 005 298

Detroit, Toledo & Ironton
402
ANALOG
$129.95
ATL-40 004 150
$239.95
ATL-40 004 170
405
ANALOG
$129.95
ATL-40 004 151
$239.95
ATL-40 004 171
Baltimore & Ohio
3743
ANALOG
$129.95
ATL-40 004 152
$239.95
ATL-40 004 172
3760
ANALOG
$129.95
ATL-40 004 153
$239.95
ATL-40 004 173
RF&P (Early with white frame)
123
ANALOG
$129.95
$97.46
ATL-40 004 154
$239.95
$179.96
ATL-40 004 174
127
ANALOG
$129.95
$97.46
ATL-40 004 155
$239.95
$179.96
ATL-40 004 175
Montana Rail Link
500
ANALOG
$129.95
ATL-40 004 156
$239.95
$179.96
ATL-40 004 176
HLCX
4225
ANALOG
$129.95
$97.46
ATL-40 004 157
$239.95
ATL-40 004 177
NJ TRANSIT
4301
ANALOG
$129.95
ATL-40 004 158
$239.95
ATL-40 004 178
4303
ANALOG
$129.95
ATL-40 004 159
$239.95
ATL-40 004 179
Milwaukee Road
2047
ANALOG
$129.95
ATL-40 004 160
$239.95
ATL-40 004 180
2050
ANALOG
$129.95
ATL-40 004 161
$239.95
ATL-40 004 181
Southern Pacific
7127
ANALOG
$129.95
ATL-40 004 162
$239.95
$179.96
ATL-40 004 182
7138
ANALOG
$129.95
ATL-40 004 163
$239.95
$179.96
ATL-40 004 183
Canadian National
9304
ANALOG
$129.95
$97.46
ATL-40 004 164
$239.95
ATL-40 004 184
9308
ANALOG
$129.95
ATL-40 004 165
$239.95
$179.96
ATL-40 004 185
Western Pacific
3523
ANALOG
$129.95
$97.46
ATL-40 004 166
$239.95
ATL-40 004 186
3528
ANALOG
$129.95
ATL-40 004 167
$239.95
ATL-40 004 187
M-K-T
174
ANALOG
109.95
ATL-53932
139.95
ATL-53479
178
ANALOG
109.95
ATL-53933
139.95
ATL-53480
Seaboard
619
ANALOG
109.95
ATL-53936
139.95
ATL-53483
626
ANALOG
109.95
ATL-53937
139.95
ATL-53484
Florida East Coast "100 Years"
445
ANALOG
$114.95
ATL-40 000 234
$149.95
ATL-40 000 266
446
ANALOG
$114.95
ATL-40 000 235
$149.95
ATL-40 000 267
Illinois Central
3014
ANALOG
$114.95
ATL-40 000 236
$149.95
ATL-40 000 268
3018
ANALOG
$114.95
ATL-40 000 237
$149.95
ATL-40 000 269
3031
ANALOG
$114.95
ATL-40 000 238
PanAm Railways
350
ANALOG
$114.95
ATL-40 000 239
$149.95
ATL-40 000 270
352
ANALOG
$114.95
ATL-40 000 240
$149.95
ATL-40 000 271
Rock Island
363
ANALOG
$114.95
ATL-40 000 241
$149.95
ATL-40 000 272
367
ANALOG
$114.95
ATL-40 000 242
$149.95
ATL-40 000 273
368
ANALOG
$114.95
ATL-40 000 243

Kansas City Southern (GP-22ECO)

2810
ANALOG
$119.95
ATL-40 000 378
$154.95
ATL-40 000 401
2813
ANALOG
$119.95
ATL-40 000 379
$154.95
ATL-40 000 402
2820
ANALOG
$119.95
ATL-40 000 380

Missouri Pacific

616
ANALOG
$119.95
ATL-40 000 381
$154.95
ATL-40 000 403
631
ANALOG
$119.95
ATL-40 000 382
$154.95
ATL-40 000 404

Providence & Worcester

3001
ANALOG
$119.95
ATL-40 000 383
$154.95
ATL-40 000 405
3002
ANALOG
$119.95
ATL-40 000 384
$154.95
ATL-40 000 406
3003
ANALOG
$119.95
ATL-40 000 385

Union Pacific

677
ANALOG
$119.95
ATL-40 000 386
$154.95
ATL-40 000 407
683
ANALOG
$119.95
ATL-40 000 387
$154.95
ATL-40 000 408

Western Pacific

3532
ANALOG
$119.95
ATL-40 000 388
$154.95
ATL-40 000 409

Canadian National

9302
ANALOG
$119.95
ATL-40 001 902
$154.95
ATL-40 001 934
9309
ANALOG
$119.95
ATL-40 001 903
$154.95
ATL-40 001 935
9316
ANALOG
$119.95
ATL-40 001 904
$154.95
ATL-40 001 936

Penn Central

3066
ANALOG
$119.95
ATL-40 001 905
$154.95
ATL-40 001 937
3047
ANALOG
$119.95
ATL-40 001 906
$154.95
ATL-40 001 938
3172
ANALOG
$119.95
ATL-40 001 907
$154.95
ATL-40 001 939

Rio Grande

3051
ANALOG
$119.95
ATL-40 001 908
$154.95
ATL-40 001 940
3054
ANALOG
$119.95
ATL-40 001 909
$154.95
ATL-40 001 941
3060
ANALOG
$119.95
ATL-40 001 910
$154.95
ATL-40 001 942

Soo Line

732
ANALOG
$119.95
ATL-40 001 911
$154.95
ATL-40 001 943
733
ANALOG
$119.95
ATL-40 001 912
$154.95
ATL-40 001 944
735
ANALOG
$119.95
ATL-40 001 913
$154.95
ATL-40 001 945

The ROCK

3001
ANALOG
$119.95
ATL-40 001 914
$154.95
ATL-40 001 946
3000
ANALOG
$119.95
ATL-40 001 915
$154.95
ATL-40 001 947
373
ANALOG
$119.95
ATL-40 001 916
$154.95
ATL-40 001 948

Wheeling & Lake Erie

301
ANALOG
$124.95
ATL-40 002 765
$159.95
ATL-40 002 782
304
ANALOG
$124.95
ATL-40 002 766
$159.95
ATL-40 002 783
305
ANALOG
$124.95
ATL-40 002 767
$159.95
ATL-40 002 784

Seaboard Coast Line

1539
ANALOG
$124.95
ATL-40 002 768
$159.95
ATL-40 002 785
1545
ANALOG
$124.95
ATL-40 002 769
$159.95
ATL-40 002 786
1554
ANALOG
$124.95
ATL-40 002 770
$159.95
ATL-40 002 787

Burlington Route

171
ANALOG
$124.95
ATL-40 002 771
$159.95
ATL-40 002 788
178
ANALOG
$124.95
ATL-40 002 772
$159.95
ATL-40 002 789
180
ANALOG
$124.95
ATL-40 002 773
$159.95
ATL-40 002 790

Western Maryland

3795
ANALOG
$124.95
ATL-40 002 774
$159.95
ATL-40 002 791
3796
ANALOG
$124.95
ATL-40 002 775
$159.95
ATL-40 002 792
3798
ANALOG
$124.95
ATL-40 002 776
$159.95
ATL-40 002 793

New York Central

3014
ANALOG
$124.95
ATL-40 002 777
$159.95
ATL-40 002 794
3025
ANALOG
$124.95
ATL-40 002 778
$159.95
ATL-40 002 795
3042
ANALOG
$124.95
ATL-40 002 779
$159.95
ATL-40 002 796
Back to N Scale Supply catalog page for : Atlas