Atlas Model Railroad
The Atlas Library - CD ROM
Part #ATL-371 CURRENTLY UNAVAILABLE
| Layout Instruction Books | Reference Books |
| --- | --- |
| Beginner's Guide to HO Model Railroading | The Complete Atlas Wiring Book |
| HO Layouts for Every Space | The Atlas Parts Catalog |
| Seven Step-by-Step HO Layouts | The Atlas Product Catalog |
| HO King-Size Plan Book | |
| Introduction To N Scale Model Railroading | |
| Nine N Scale Railroads | |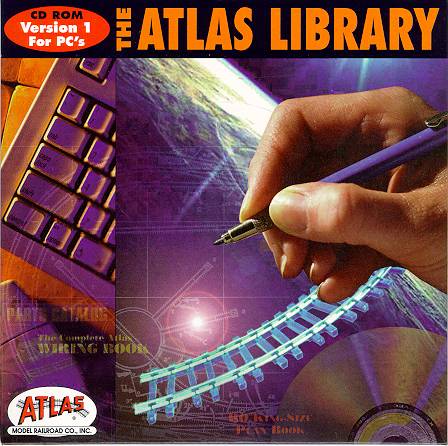 On this CD-ROM, each book listed above is completely indexed so you can quickly link right to the section you want to see. As you go through the text, all figures, diagrams, and glossary terms are available for viewing in large size, with the simple click of your mouse. Jumping from book to book is also a breeze. the software has many useful features including the ability to make notes to yourself as you go through the books, or print the entire text of a chapter.
Within the books on this CD are diagrams of every one of Atlas' 54 Fantastic Layout plans, accompanied by a complete list of Atlas products required, and building instructions. And if you need further information, the Atlas Wiring Book is right at your fingertips as well, containing details on how to wire any layout - from the simple to the most complex.
All the information you need to get started and finish building your railroad is on this one CD!
System Requirements: PC with Windows 3.1 or later, minimum 33mhz system 486, 8mb of RAM memory (12mb or more recommended), at least 20mb free hard disk space, minimum double-speed CD-ROM drive, and Windows 3.1 or later compatible VGA graphics card and monitor.
Back to Atlas Publications Page

---
Email to sales@nscalesupply.com
© Copyright 1997, 1998 by Solution Development, Inc.