60' PS Auto Parts Box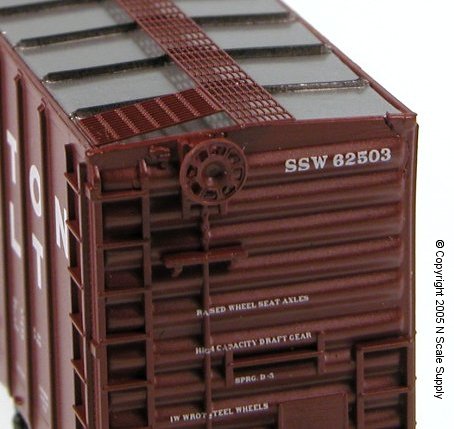 FEATURES:
Multiple road numbers

Fully-assembled and ready-to-run out of the box

Accurately painted and printed

Highly detailed, injection molded body

Separately applied brake wheel

Machined metal wheels

Screw mounted trucks

McHenry operating knuckle couplers

Weighted for trouble free operation

Clear plastic jewel box for convenient storage

Operates on Code 55 and 80 rail

Highly detailed doors

Photo-etched stirrup steps

WP, etched metal roofwalk

100-Ton roller bearing trucks with extended drawbar

Era: Early 1960s thru 1970s

Minimum radius: 11"

Recommended radius: 15"
PROTOTYPE INFORMATION:
During the 1960's, Ford Motor Company, Pullman Standard and Santa Fe pooled their resources to develop a standard boxcar to meet the transportation needs of automobile manufacturers in the United States. Delivered in 1965, the Pullman Standard auto parts boxcar is the most prolific example of this type of freight car. It ultimately changed the face of automobile manufacturing and rail transportation.

Road Name

Road #

Image

MSRP

Our $

Part #

Chicago Burlington & Quincy

9801

$29.98

$23.99

ATH-6700

9816

$29.98

$23.99

ATH-6701

9825

$29.98

$23.99

ATH-6702

Milwaukee Road

4002

$29.98

$23.99

ATH-6703

4016

$29.98

$23.99

ATH-6704

4020

$29.98

$23.99

ATH-6705

Louisville & Nashville

105500

$29.98

$23.99

ATH-6706

105510

$29.98

$23.99

ATH-6707

105536

$29.98

$23.99

ATH-6708

Norfolk & Western

600410

$29.98

$23.99

ATH-6709

600415

$29.98

$23.99

ATH-6710

600429

$29.98

$23.99

ATH-6711

Frisco

9005

$29.98

$23.99

ATH-6712

9013

$29.98

$23.99

ATH-6713

9023

$29.98

$23.99

ATH-6714

Southern Pacific

621105

$29.98

$23.99

ATH-6715

621115

$29.98

$23.99

ATH-6716

621125

$29.98

$23.99

ATH-6717

CB&Q/Red

9804

$25.98

ATH-12125

9815

$25.98

ATH-12126

9839

$25.98

ATH-12127

L&N

105505

$25.98

ATH-12128

105524

$25.98

ATH-12129

105547

$25.98

ATH-12130

Milwaukee Road

4004

$25.98

ATH-12131

4015

$25.98

ATH-12132

4021

$25.98

ATH-12133

Frisco

9004

$25.98

ATH-12134

9012

$25.98

ATH-12135

9021

$25.98

ATH-12136

Southern Pacific

621104

$25.98

ATH-12137

621113

$25.98

ATH-12138

621124

$25.98

ATH-12139

Burlington Northern

390005

$25.98

ATH-6508

390011

$25.98

ATH-6509

390030

$25.98

ATH-6510

Chicago Burlington & Quincy

9811

$25.98

ATH-6511

9828

$25.98

ATH-6512

9849

$25.98

ATH-6513

Louisville & Nashville

105509

$25.98

ATH-6514

105520

$25.98

ATH-6515

105539

$25.98

ATH-6516

Norfolk & Western

600408

$25.98

ATH-6517

600412

$25.98

ATH-6518

600423

$25.98

ATH-6519

Southern

17061

$25.98

ATH-6520

17134

$25.98

ATH-6521

17212

$25.98

ATH-6522

Union Pacific

960037

$25.98

ATH-6523

960042

$25.98

ATH-6524

960059

$25.98

ATH-6525

Western Pacific

3702

$25.98

ATH-6526

3715

$25.98

ATH-6527

3721

$25.98

ATH-6528