30,000 Gallon Ethanol Tank Cars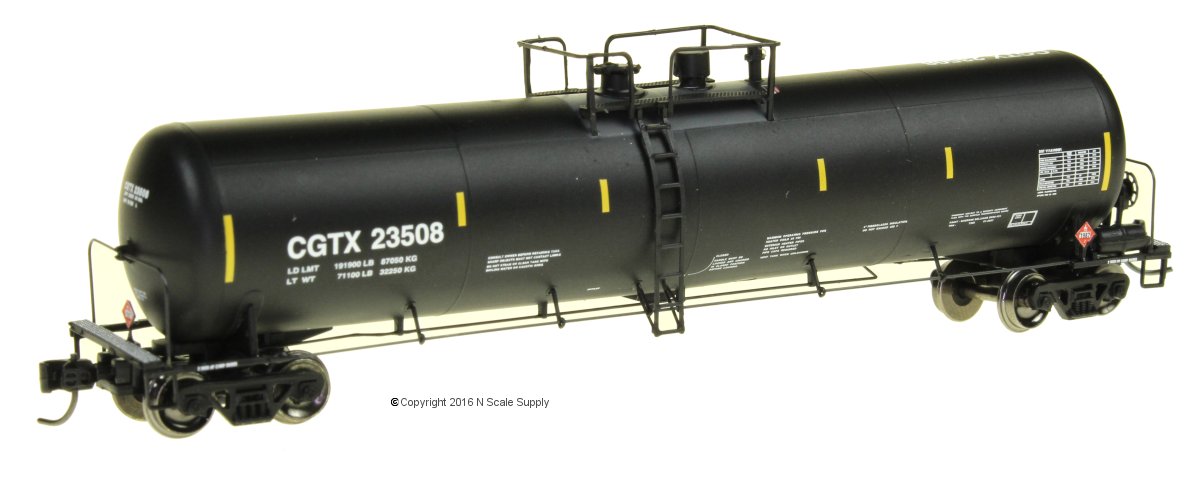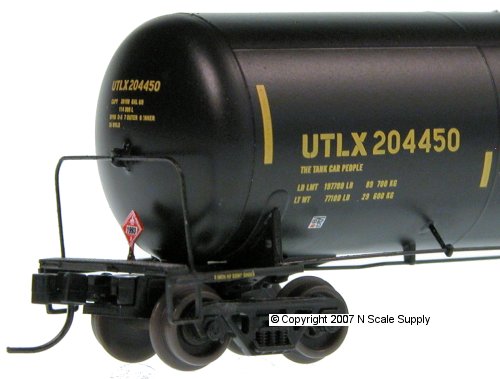 For years, railroads have hauled ethyl alcohol, or ethanol, as it is better known. Ethanol is mostly made from corn and is used as additive to oxygenate gasoline to reduce pollution. It has also been mixed 85 percent ethanol to 15 percent gasoline and used as an alternative to gasoline. Most of this usage was in the Midwest in states such as Illinois, Minnesota, Iowa, Kansas, Nebraska, and Indiana where there are considerable crops of corn grown. In 2004, it was mandated that ethanol be used to replace MBTE as an additive to oxygenate all gasoline used in the state of California. Since California is not a corn producing state, the ethanol has to be shipped in from states that do have large corn crops and ethanol plants. This ethanol traffic boomed in 2004 as several million gallons of ethanol is needed each week by refineries in the Los Angeles Harbor area alone and 800 million gallons is needed
in the state each year. To meet growing market demand for new tank cars, UTLX Manufacturing, Inc. is expanding production capacity with a green-field manufacturing facility at Alexandria, Louisiana. UTLX 205400 is the first car in the initial production
run from the new plant. The 30,000 gallon (shell full) car is sized to stage the greatest number of cars at a producer's loading rack and still meet the 263,000-pound gross rail load limit. The car's coupled length of 59'4" and its 119 3/16" I.D. tank provide shipping efficiency within AAR Plate "C" clearance requirements. The Funnel-Flow® design facilitates complete bottom unloading.

The car is scaled from manufacturer's drawings and includes newly-required reflectivity markings.

11873 and 11883 will represent cars from earlier UTLX production, with a slightly different paint scheme.

Key Features:
10 different road numbers

Separately applied walkway platform, manway, outlet,
ladders, brake rigging detail, safety rail supports and tank saddles

Photo etched metal walkways and end platforms

Wire safety rails and end handrails

Printed placards

100-ton roller bearing trucks

Minimum radius: 11"

Recommended radius: 15"

Road Name
Road #
Image
MSRP
Our $
Part #
Midwest Ethanol Transport
112618
$32.98
$26.38
ATH-17020

3 Pack
$93.98
$75.18
ATH-17024

3 Pack
$93.98
$75.18
ATH-17025

3 Pack
$93.98
$75.18
ATH-17026

Midwest Ethanol Transport
112680
$32.98
$26.38
ATH-17021

112690
$32.98
$26.38
ATH-17022

112733
$32.98
$26.38
ATH-17023

ADMX
30719
$32.98
$26.38
ATH-17027

3 Pack
$93.98
$75.18
ATH-17028

3 Pack
$93.98
$75.18
ATH-17029

3 Pack
$93.98
$75.18
ATH-17030

GATX
202080
$32.98
$26.38
ATH-17031

3 Pack
$93.98
$75.18
ATH-17032

3 Pack
$93.98
$75.18
ATH-17033

3 Pack
$93.98
$75.18
ATH-17034

Union Tank Car Co.
212871
$32.98
$26.38
ATH-17035

3 Pack
$93.98
$75.18
ATH-17036

3 Pack
$93.98
$75.18
ATH-17037

3 Pack
$93.98
$75.18
ATH-17038

Celtran
5014
$32.98
$26.38
ATH-17039

3 Pack
$93.98
$75.18
ATH-17040

3 Pack
$93.98
$75.18
ATH-17041

3 Pack
$93.98
$75.18
ATH-17042

CTCX
301151
$32.98
$26.38
ATH-17043

3 Pack
$93.98
$75.18
ATH-17044

3 Pack
$93.98
$75.18
ATH-17045

3 Pack
$93.98
$75.18
ATH-17046

Chief
89953
$25.98
ATH-24389
Chief 3 Pack
89954, 89957, 89960
$75.98
$60.79
ATH-24390
89955, 89958, 89961
$75.98
ATH-24391
89956, 89959, 89962
$75.98
$60.79
ATH-24392
CHS
255005
$25.98
$20.79
ATH-24393
CHS 3 Pack
255009, 255029, 255062
$75.98
ATH-24394
255011, 255037, 255079
$75.98
$60.79
ATH-24395
255016, 255042, 255098
$75.98
$60.79
ATH-24396
U.S. Department of Defense
14404
$25.98
ATH-24397
U.S. Department of Defense 3 Pack
14408, 14427, 14456
$75.98
$60.79
ATH-24398
14411, 14434, 14462
$75.98
ATH-24399
14415, 14442, 14482
$75.98
ATH-24487
The below items are SOLD OUT. They are listed here for historical reference.
Road Name
Road #
Image
MSRP
Our $
Part #
GATX Rail Canada
20235
$29.98
ATH-16495
GATX Rail Canada 3 Pack
3 Pack
$84.98
ATH-16496
3 Pack
$84.98
ATH-16497
3 Pack
$84.98
ATH-16498
Trinity Industries Leasing
261200
$29.98
ATH-16499
Trinity Industries Leasing 3 Pack
3 Pack
$84.98
ATH-16500
3 Pack
$84.98
ATH-16501
3 Pack
$84.98
ATH-16502
Union Tank Car
212866
$29.98
ATH-16507
Union Tank Car 3 Pack
3 Pack
$84.98
ATH-16508
3 Pack
$84.98
ATH-16509
3 Pack
$84.98
ATH-16510
Union Tank Car
213804
$29.98
ATH-16511
Union Tank Car 3 Pack
3 Pack
$84.98
ATH-16512
3 Pack
$84.98
ATH-16513
3 Pack
$84.98
ATH-16514
Trinity Industries Leasing
192995
$29.98
ATH-16519
Trinity Industries Leasing 3 Pack
3 Pack
$84.98
ATH-16520
3 Pack
$84.98
ATH-16521
3 Pack
$84.98
ATH-16522
Transport Equipment Inc
30202
$29.98
ATH-16503
Transport Equipment Inc 3 Pack
3 Pack
$84.98
ATH-16504
3 Pack
$84.98
ATH-16505
3 Pack
$84.98
ATH-16506
Archer Daniels Midland
29230
$29.98
ATH-16515
Archer Daniels Midland 3 Pack
3 Pack
$84.98
ATH-16516
3 Pack
$84.98
ATH-16517
3 Pack
$84.98
ATH-16518
GATX/Soy
30862
$24.98
ATH-24341
GATX/Soy 3 Pack
30867, 32499, 36129
$74.98
ATH-24342
GATX/Soy 3 Pack
30865, 32491, 32493
$74.98
ATH-24343
GATX/Soy 3 Pack
30868, 32496, 32498
$74.98
ATH-24344
Procor/Green
30862
$24.98
ATH-24345
Procor/Green 3 Pack
75101, 75175, 75341
$74.98
ATH-24346
Procor/Green 3 Pack
71043, 71055, 75279
$74.98
ATH-24347
Procor/Green 3 Pack
71093, 75241, 75292
$74.98
ATH-24348
TILX
30862
$24.98
ATH-24349
TILX 3 Pack
192252, 192270, 192288
$74.98
ATH-24350
TILX 3 Pack
192244, 192266, 192278
$74.98
ATH-24351
TILX 3 Pack
190220, 192239, 192292
$74.98
ATH-24352
ADMX-ADM
29246
$24.98
ATH-24353
ADMX-ADM 3 Pack
29232, 29848, 29885
$74.98
ATH-24354
ADMX-ADM 3 Pack
29259, 29282, 29836
$74.98
ATH-24355
ADMX-ADM 3 Pack
29270, 29251, 29294
$74.98
ATH-24356
Minnesota Corn Processors
300082
$24.98
ATH-24357
Minnesota Corn Processors 3 Pack
300033, 300107, 300121
$74.98
ATH-24358
Minnesota Corn Processors 3 Pack
300026, 300057, 300092
$74.98
ATH-24359
Minnesota Corn Processors 3 Pack
300049, 300074, 300115
$74.98
ATH-24360
Zahori
1712
$24.98
ATH-24361
Zahori 3 Pack
2141, 2166, 3975
$74.98
ATH-24362
Zahori 3 Pack
2157, 2170, 2185
$74.98
ATH-24363
Zahori 3 Pack
1718, 2192, 3979
$74.98
ATH-24364
Abengoa Bioenergy
193901
$24.98
ATH-24365
Abengoa Bioenergy 3 Pack
193850, 193855, 194062
$74.98
ATH-24366
Abengoa Bioenergy 3 Pack
193866, 193892, 194055
$74.98
ATH-24367
Abengoa Bioenergy 3 Pack
193878, 193883, 194049
$74.98
ATH-24368
Procor
47803
$24.98
ATH-24369
Procor 3 Pack
47827, 47874, 47995
$74.98
ATH-24370
Procor 3 Pack
47857, 47877, 47931
$74.98
ATH-24371
Procor 3 Pack
47777, 47839, 47988
$74.98
ATH-24372
South Dakota Soybean Processors
97021
$24.98
ATH-24373
South Dakota Soybean Processors 3 Pack
97054, 97114, 97078
$74.98
ATH-24374
South Dakota Soybean Processors 3 Pack
97003, 97069, 97034
$74.98
ATH-24375
South Dakota Soybean Processors 3 Pack
97035, 97080, 97027
$74.98
ATH-24376
Renewable Products
196073
$24.98
ATH-24377
Renewable Products 3 Pack
198437, 198483, 198542
$74.98
ATH-24378
Renewable Products 3 Pack
196088, 198426, 198509
$74.98
ATH-24379
Renewable Products 3 Pack
196090, 198454, 198535
$74.98
ATH-24380
Union Tank Car/UTLX
205436
$24.98
ATH-24381
Union Tank Car/UTLX 3 Pack
205455, 205529, 205684
$74.98
ATH-24382
Union Tank Car/UTLX 3 Pack
205407, 205583, 205648
$74.98
ATH-24383
Union Tank Car/UTLX 3 Pack
205501, 205512, 205660
$74.98
ATH-24384
ADM
30718
$24.98
ATH-24385
ADM 3 Pack
30893, 30946, 31321
$74.98
ATH-24386
ADM 3 Pack
30902, 31077, 31269
$74.98
ATH-24387
ADM Pack
30784, 30935, 31150
$74.98
ATH-24388
Abengoa Bioenergy
202083
$25.98
ATH-24488
Abengoa Bioenergy 3 Pack
202098, 202136, 202214
$75.98
ATH-24489
202112, 202156, 202237
$75.98
ATH-24490
202128, 202188, 202268
$75.98
ATH-24491
Renewable Products
194099
$25.98
ATH-24496
Renewable Products 3 Pack
195020, 196048, 197114
$75.98
ATH-24497
195072, 196077, 198218
$75.98
ATH-24498
196002, 196099, 199518
$75.98
ATH-24499
NATX
302633
$25.98
ATH-24492
NATX 3 Pack
306252, 302691, 302891
$75.98
ATH-24493
302661, 302706, 303312
$75.98
ATH-24494
302689, 302728, 303409
$75.98
ATH-24495
Canadian General Transit
23523
$27.98
ATH-6636
3 Pack #1
$75.98
ATH-6637
3 Pack #2
$75.98
ATH-6638
13 Pack #3
$75.98
ATH-6639
Midwest Ethanol Transport
112620
$27.98
ATH-6640
3 Pack #1
$75.98
ATH-6641
3 Pack #2
$75.98
ATH-6642
13 Pack #3
$75.98
ATH-6643
Nebraska Corn Processing
020
$27.98
ATH-6644
3 Pack #1
$75.98
ATH-6645
3 Pack #2
$75.98
ATH-6646
13 Pack #3
$75.98
ATH-6647
Nebraska Corn Processing
068
$27.98
ATH-6648
3 Pack #1
$75.98
ATH-6649
3 Pack #2
$75.98
ATH-6650
13 Pack #3
$75.98
ATH-6651
Reeve Agri Energy
35201
$27.98
ATH-6652
3 Pack #1
$75.98
ATH-6653
3 Pack #2
$75.98
ATH-6654
13 Pack #3
$75.98
ATH-6655