Atlantic Coast Line
Road # ACL 21003
40' Standard Box Car, Single Door

Part #MTL-20636
N Scale Supply Price:
New: January 2003

Both regular and low-profile wheels are included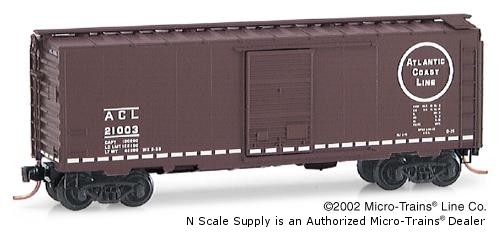 This war baby is a 40' standard box car with a single Youngstown door. It was built by Pullman-Standard in February 1942 and sports the early gothic paint scheme used from 1951-1956. This simple paint scheme employed a box car red body with white lettering.
Back to N Scale Supply catalog page for : Micro-Trains® #20000 Series