Chicago & North Western

Road #

CNW 11119

Bay Window Caboose

Part #MTL-130 00 030

N Scale Supply Price:
New: July 2009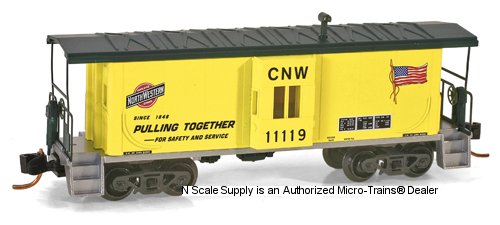 This bay window caboose is painted yellow with dark green roof with black, red and white logo and American flag. The lettering is black. It was built during the time period of 1965 to 1974 by International Car Co., serviced in November 1981, and runs on Swing-Motion Caboose Trucks. The bay window caboose afforded a better view of the side of the train and eliminated the falling hazard of the cupola. The bay window gained favor with many railroads also because it eliminated the need for additional clearances in tunnels and overpasses.
Back to N Scale Supply catalog page for : Micro-Trains® 130 00 000