CSX Transportation

Road # CSXT 254238
3-Bay ACF Center Flow® Covered Hopper w/Elongated Hatches

Part #MTL-094 00 060
N Scale Supply Price:
New: Sept 2007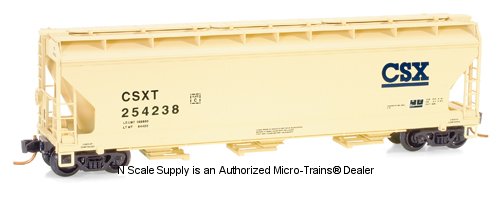 This three bay ACF covered hopper with elongated hatches is painted DuPont HS beige with large blue CSX herald
and black lettering. It runs on Barber® roller bearing trucks. Built in August 1974 by ACF industries, this car was
repainted in January 1994 by an outside contractor. (By this time the railroads were not allowed to paint their own
freight cars).
Back to N Scale Supply catalog page for : Micro-Trains 94000 Series