Northern Pacific
Road # NP 39630
50' Wagon Top Box Car w/Double Doors

Part #MTL-079 00 020
N Scale Supply Price: Sold Out
Reprint: July 2009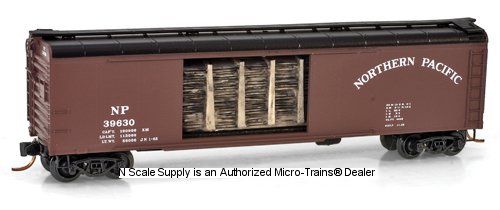 This 50' wagon top box car with sliding doors and wood load is painted box car red with black roof and white logo and lettering. It was built in November 1936 by Greenville Steel Car Co., Greenville, PA, rebuilt in January 1965 and runs on Coil Elliptic trucks. This car is an ex-Norfolk and Western, serviced and painted with black roof and boxcar red sides and ends for the Northern Pacific. It's lettered in white in the usual "leaser" scheme with reversed placement of the arched Northern Pacific letters being stenciled to the right of the doors.
Back to N Scale Supply catalog page for : Micro-Trains® 79000