Union Pacific
Road # UP 161106
50' Auto Box Car w/Double Side Doors & End Door

Part #MTL-078 00 030
N Scale Supply Price: Sold out
Reprint: April 2009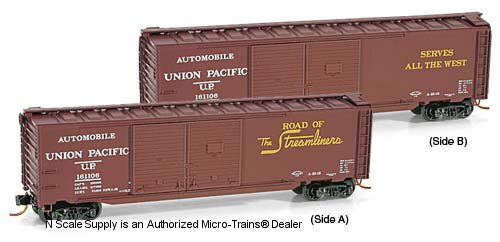 This 50' auto box car with double sliding doors and end doors is painted red with yellow slogans and white logo and lettering. It was built by Union Pacific in Grand Island, NE, in April 1938 and runs on Bettendorf trucks. The auto box car with double door and end doors design was considered state of the art in the 1930s and 1940s, carrying automobiles on special racks inside for stacking. Unloading was made easier with hinged dreadnaught steel doors at the "A" end of the car. UP introduced slogans to boxcars in 1936: They were different side to side and were stenciled in yellow with all other lettering stenciled in white.
Back to N Scale Supply catalog page for : Micro-Trains® #78000 Series