Canadian Pacific
Road # CP 100190
40' Standard Box Car w/Plug & Sliding Doors

Part #MTL-022 00 110
N Scale Supply Price:
Reprint: Nov 2008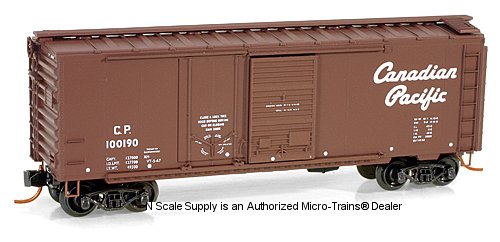 This 40' standard box car with plug and sliding doors is painted box car red with white lettering and logo. It was built in October 1962 by National Steel Car, Canada, and serviced in May 1967. It runs on Bettendorf trucks. The combination of a 6' plug door and 8' sliding door provides a more versatile car for freight than a single door. The staggered 14'-wide door openings facilitate the shipment of lumber and other bulky and palletized products. The extra width allows for the mechanized loading and unloading of these commodities. When a single-door car is required, the 6' plug door is closed and locked.
Back to N Scale Supply catalog page for : Micro-Trains® #22000 Series